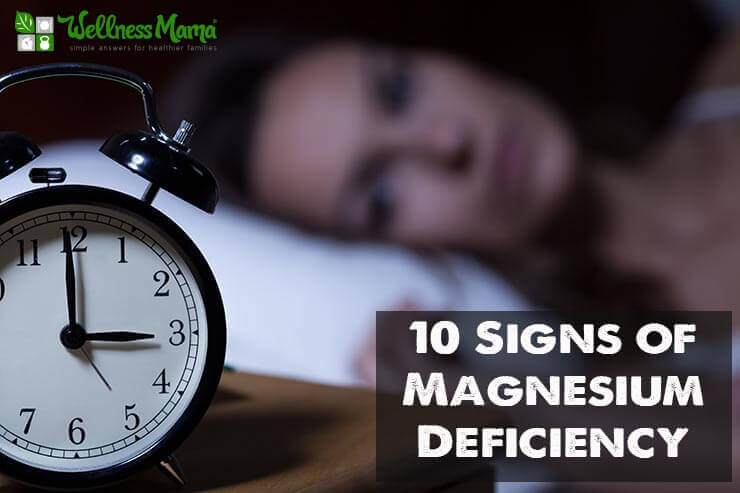 You've heard about our love for magnesium before, and how we think it's a huge part of our overall health. That's why we use things like magnesium oil and magnesium body butter and eat magnesium rich foods to make sure we're getting enough intake. Magnesium supports hundreds of biological reactions that affect blood pressure, our immune system, and metabolism, which is why we're so crazy about it. Worried your might be short? Check out these 10 signs of magnesium deficiency.
"Magnesium deficiency is a widespread problem and some estimates suggest that over 90% of us are deficient. I've been writing about magnesium for years, but am even more concerned about this problem lately.
Why is magnesium a big deal?
Magnesium is responsible for over 300 biochemical reactions in the body and impacts blood pressure, metabolism, immune function and many other aspects of health.
Some experts claim that magnesium deficiency is the single largest health problem in our world today.
Why is Magnesium Deficiency so Widespread?
There are many reasons that deficiency is so widespread in modern times (even though it wasn't in the past).
Depleted soil conditions mean that plants (and meat from animals that feed on these plants) are lower in magnesium. Use of chemicals like fluoride and chlorine in the water supply make magnesium less available in water since these chemicals can bind to magnesium.
Common substances that many of us consume daily, like caffeine and sugar, also deplete the body's magnesium levels…
So does stress.
In other words, the lucky (but small) percentage of the population that lives near the ocean (a good source of magnesium) and eats foods grown in magnesium rich soil, drinks magnesium rich water, and doesn't suffer from stress or consume sugar or caffeine might be ok… but the rest of us might need some additional magnesium.
Calcium = Fuel on the Fire
From my research, I'm convinced that excess calcium is a large part of this magnesium deficiency epidemic and that it contributes to so many health issues. Here's why…
While we don't get enough magnesium, many of us get too much calcium. Calcium is added to many processed foods, dairy or dairy alternatives and even orange juice.
When calcium levels in the body become too high, calcification can occur. Common sense, but big problem…"