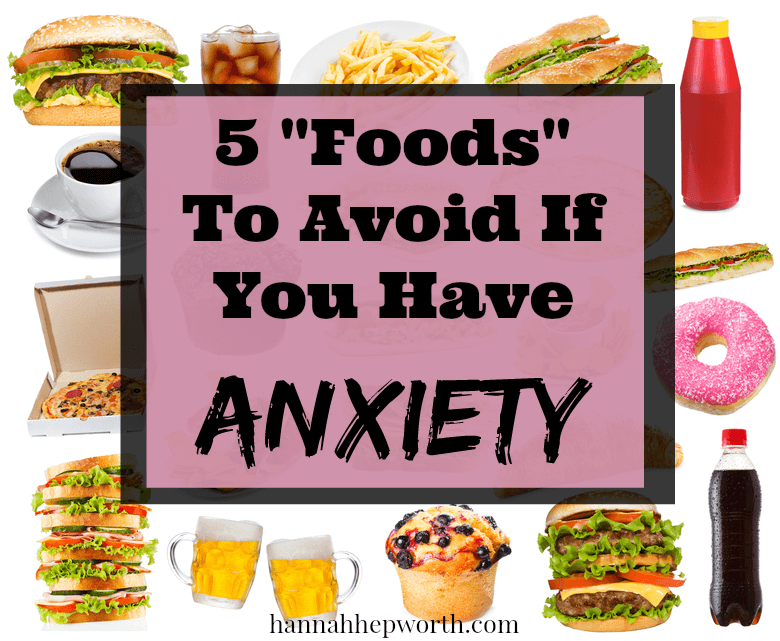 Many mental and emotional difficulties can be bettered (if not totally cured) by lifestyle changes, coping techniques, and proper nutrition. Often times, our poor food choices dig us into a deeper ditch mentally and emotionally. If you experience one of these obstacles, here are 5 foods to avoid if you have anxiety.
"Nutrition is probably one of the most underrated components of any anti-anxiety program. We normally don't think that foods can cause or exacerbate anxiety but in truth, they can.
Just as good, healthy, unadulterated foods can strengthen your body, because food is information for your cells, food can also wreak havoc and cause unnecessary stress in your body.
Top 5 Foods to Avoid if You Have Anxiety
I have to warn you, you may read through this list and feel like you been sentenced to death because your diet is mostly made up of these foods. This is not meant to stress you out more! This is to help you become aware of any bad mood foods in your diet so you can begin to decrease and eliminate them.
If you eat all of them on a regular basis, pick 1 that you can begin eliminating from your diet. Go slow, experience success and improvement and then drop another. Let's get started!
Sugar
I'll just start with this food first. We all love it, many of us are even addicted to it, although we may not like to admit it;) Sugar is a major stressor to your body. Sugar tastes wonderful, but it's void of nutrients. When you fill up too much on sugary foods (which can also be foods that turn to sugar quickly like simple carbs i.e. white flour, white rice…) you don't leave yourself room to eat nutrient dense foods like fruits and veggies, whole grains, beans, nuts, seeds, raw dairy and meat. You can eventually become deficient in many nutrients which then creates a host of problems that cause and exacerbate anxiety and stress.
Sugar also promotes inflammation in the body. This can be located ANYWHERE in the body, do your joints ache? Do you suffer from mental illness? Inflammation is the root of all illness.
Make a goal to eliminate sugar for 1 week. See how you feel. You might not even realize how yucky it makes you feel until you add it back in. Try it out for yourself!
Caffeine
This isn't something that I've ever really struggled with as I'm not a soda, coffee or tea drinker. Unless it's kombucha mind you!
However, I know tons of people who can't live without their "Dew" or their Diet Coke multiple times a day. The thing with caffeine is that it depletes B-vitamins (namely B1), which are so important for a healthy, unfrazzled nervous system.
Caffeine also triggers an adrenalin release just like stress does and can cause and exacerbate panic attacks. If you struggle with panic attacks please eliminate caffeine! It restricts blood flow to the brain, causes your heart to race (think anxiety) and dehydrates your whole body."