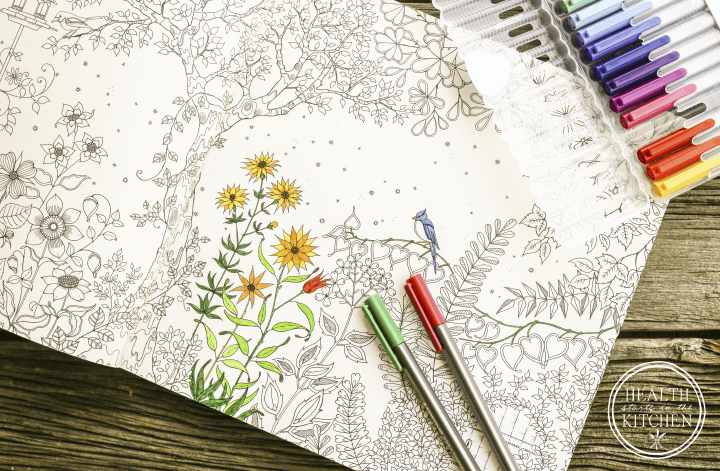 Coloring is one of the first "big kid" activities we learned as a child, and for many of us, it was a creative outlet. We squealed with excitement when we were gifted a new coloring book and inhaled the scent of a fresh box of crayons at the beginning of the school year. Coloring was good for us then, and as adults, it's still good for us now. Just like creativity, relaxation, and fun are promoted through activities like finger painting and playing with homemade play dough, here are a few reasons coloring is good for your health.
"When you imagine a coloring book and a box of crayons…do you immediately think of young children? Do you think back to your own childhood and remember many happy hours choosing just the right crayon for your masterpiece?
Most children enjoy coloring books. It stimulates imagination, introduces children to different shades of colors, and enhances motor skills. Many people will say at some time in their life that they "outgrew their coloring books". What is more likely is that children absorbed the social message that coloring books are for little kids only. They may have tossed their crayons away in hopes of seeming more mature, choosing to part ways with their coloring books remorsefully.
Not all children do this however. There are still a good many older kids that color. And even more kids that set aside coloring books to begin drawing their own pictures.
Still, a vast majority of people make it to adulthood, and never think to pick up a coloring book again. In recent years, that has begun to change. Coloring books are being given to the elderly to help maintain motor skills. They are being used in therapy to help adults express their emotions.
HERE ARE 5 REASONS COLORING IS GOOD FOR YOUR HEALTH:
1. Promoting Coordination
Today, few adults enjoy hobbies that encourage eye-hand coordination. We use sewing machines and embroidery machines. We type or email letters. As children, we work very hard to develop our motor skills, therefore it is a shame to let them go after we become adults. Because fine motor skills require extra work by your brain to coordinate your actions, and muscle control in your hands and arms, coloring can help delay loss of these important skills as we age. It may also help fight cognitive loss, especially if we choose challenging pieces every so often."