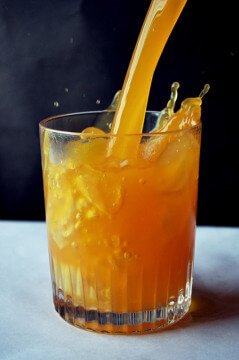 For a long time, I bought into every fad diet and nutritional advice out there. I eliminated all fat, even the good, necessary kind, from my diet in fear that it would expand my waistline. I counted calories to no avail and tried to "exercise" off my pizza slices and fried foods. This list of foods you think are healthy but aren't is a great summary of what many people in our world are buying into as well.
Have you ever tried a fad diet that left you disappointed?
"In helping people find new, nourishing ways to eat, whether it's for weight loss or overall health improvement, I'm often surprised to learn what people believe to be "healthy choices." It's not realistic to expect a layperson to decipher all of the misinformation about health and nutrition swirling around the webosphere, but even folks with medical and health education backgrounds can get stuck on outdated strategies for a healthy lifestyle, following and recommending advice to their patients that is no longer backed up by the research. So I'm going to pick my jaw up off the ground and set straight some of the misconceptions out there about food — what's healthy, what's not, and why.
A major challenge in this whole "good vs. bad" food approach is unlearning old information, so that's where I'm going to start today. Get ready as I unpack some foods you thought were healthy but aren't.
1. Skim Milk
Remember when I mentioned a potential rant coming about skim milk? Behold! Here it is. Skim milk is the first on my hit list, because it's my biggest rant. Not only is fat-free dairy flavorless and disgusting, it's the concentrated byproduct leftover when the best part of milk (the CREAM!) is removed. It's touted as a health food, and it's simply the opposite — full of sugar, void of nutrients, and not a joy to eat. (And yes, I believe that a food must be a joy to eat to qualify as a health food!)
The fat-soluble vitamins found in whole milk (namely vitamins A and D) need fat to be absorbed into our bodies, and the protein and calcium found in all milk need the vitamins to be absorbed. When the fat is removed, so are the vitamins, which causes us to have to deplete our own stores of vitamins to absorb the protein and calcium in skim milk. On top of that, the process of creating skim milk includes adding milk solids created through a high-heat process that oxidizes the naturally occurring cholesterol in milk, thus creating a food that's heart hazardous, rather than heart healthy. (source)
Skim milk also doesn't promote fat loss — in fact, it promotes fat gain. Farmers give pigs skim milk to fatten them up (source 1, source 2), and unfortunately, studies show that the same is true of our children. In a huge study of 10,700 children, those who drank 1% or skim milk had higher BMIs (body mass index) than children who drank whole milk (source)."