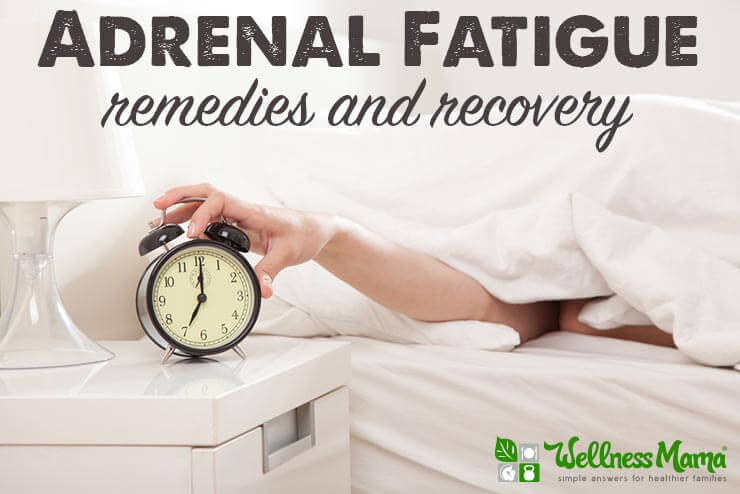 Adrenal fatigue seems to be affecting more and more people these days. And it's not surprising, considering the state of our current typical modern lifestyle: low nutrition, over exposure to unnatural light (and not enough exposure to the sun), high stress, and low quality sleep. People are much more likely to just be burnt out in a way that goes deeper than just having a tired day. Adrenal fatigue is still a mystery to some people, but this post covers the basics: what it is, the symptoms, and of course, adrenal fatigue remedies to try.
"What is Adrenal Fatigue?
Adrenal fatigue is often diagnosed in the natural health community based on a specific pattern of symptoms, but often ignored by many doctors and the mainstream medical community. Like thyroid disease, the symptoms are very real to those who have it, but difficult for others to see, so many of those suffering from adrenal fatigue are told that they are just depressed, tired, or making it up.
The adrenal glands are walnut-sized organs that sit on top of the kidneys. Though small, the adrenals are responsible for many important functions in the body. They are vital to cortisol regulation, metabolism, keeping inflammation at bay, and energy levels.
The adrenals secrete stress hormones in fight-or-flight situations when the body needs these increased hormones to survive, but our modern lifestyle can cause the adrenals to over-secrete these hormones and eventually become "fatigued" or "exhausted" from this constant over-firing.
In short, adrenal fatigue is a state where the adrenal glands do not make the correct amount or type of adrenal hormones at the correct time of day. Some sources estimate that over 80% of adults struggle with adrenal fatigue in some form.
My doctor explains that there are several stages of adrenal fatigue:
Stage 1- Wired and Tired: Cortisol levels should be naturally elevated in the morning. The first stage of adrenal fatigue is often characterized by elevated cortisol at night (when it should be low), leading to a "wired" feeling at night and difficulty sleeping. People in this stage may also regularly feel "on edge".
Stage 2- Stressed and Tired: The second stage shows more severe cortisol disruption. People in this stage may have higher cortisol in the morning but it tends to fall quickly after lunch, leading to afternoon fog and tiredness. They may get a second wind at night, but most often wake in the middle of the night and are unable to fall back asleep.
Stage 3- Full Burnout: This stage resembles how a person feels in early pregnancy or with a new baby at home- exhausted all the time no matter how much he/she has slept and completely burned out. Cortisol patterns in stage 3 are completely disrupted or even completely flat and this is especially risky because this stage is associated with higher risk of thyroid disease and autoimmune disease, as well as gut problems."