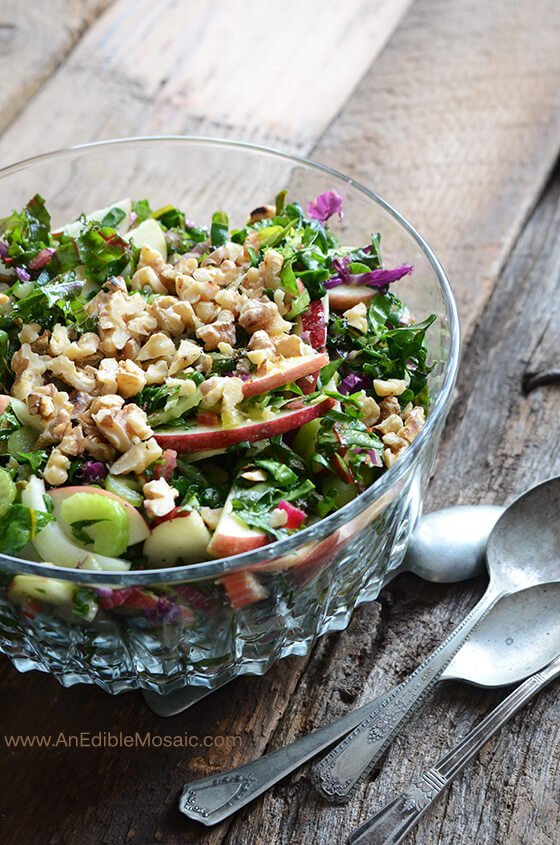 Getting a sufficient amount of nutrients from vegetables is extremely vital for your overall health, especially during the cold and flu season.  Salads are a terrific way to consume lots of different and beneficial vegetables in one delicious sitting.  This apple-walnut rainbow chard salad is one of those terrific blends, combining Swiss chard, apples, walnuts, and celery for a crunchy and flavorful blend.  Topped with a dressing made from a base of honey and apple cider vinegar, this salad has the potential to ward off cold and flu and make you feel like a million bucks!
"I swear, if you hop backwards 11 times facing the sunset every Sunday, you won't be sick all week!, a friend told me. Hmm…I guess I can see how that would work, I replied with a smile on my face. (Not so much, really, but who am I to judge?)
Anyway, I have my own ideas too…I try not to skip workouts (because they clean out my lungs) and I religiously take a Vitamin C pill every day.
I've heard at least 100 different remedies for either preventing or curing sickness, some sillier than others, but most likely very few (if any) of which are effective (of course other than the placebo effect). But something that most of us can probably agree on is the importance of eating fresh fruits and vegetables; in particular, eating the rainbow.
Raise your hand if you remember the last time you had Swiss chard. No worries, me neither, at least until I made this salad!
Apple-Walnut Rainbow Chard Salad is really easy to make and comes together quickly. Despite using just a few simple ingredients, it packs a serious punch of flavor, not to mention nutrition. Take that, cold and flu season. :)"