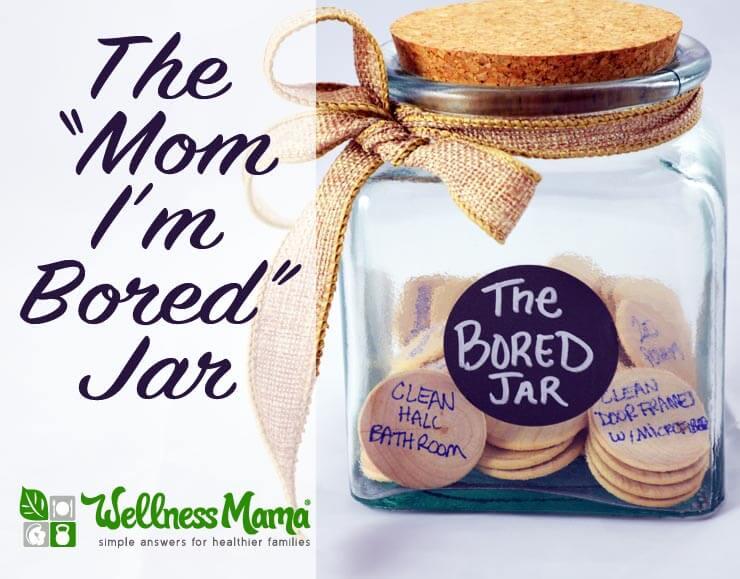 "Mommmmmm! I'm boreddddd!" How many of you have heard that phrase shouted across the house more times than you've made eggs this week? It's a saying that's enough to make your skin crawl because bored kids usually equals mischief or desperate screen time. If you're looking for a way to address this rally call with effective and fun activities, check out this bored jar. It's a simple and entertaining craft project that will keep your kids constructively satisfied during those times they are "bored".
"At our house, boredom is not allowed and is never an excuse to watch TV or complain. My children know all too well that complaining "Mom, I'm bored," is a fast way to get assigned an extra chore or two.
Recently, while visiting a friend, I saw an awesome system she used to help encourage imagination, cleaning skills and healthy habits in her children. She called it "The Bored Jar" and I asked her if I could borrow her system and share it because it works so well.
The Bored Jar
The basic idea of a "Bored Jar" is a jar, box or bucket of some kind filled with ideas of chores & activities that children can do if they complain of boredom.
At my friend's suggestion, I created this as something to send my children to if they got bored, but they ended up loving it. In fact, they call it "the fun jar" and even ask on occasion if they can pick out something to do.
I filled our jar with wooden tokens that I had written activities, exercises and chores on. I made sure to have a good mixture of things that they enjoy doing and chores that they don't enjoy as much so they'd be willing to pick something. I also found that the younger kids typically want to tag along with the older kids' jobs so it has been a good way to foster teamwork.
The chores in the jar are either above and beyond their normal chores or chores that can be done more than once per day (like sweeping the kitchen floor- at least at our house!)
Bored Jar Activity Ideas

The activities will vary by your family's needs, but here are some ideas from our jar:"