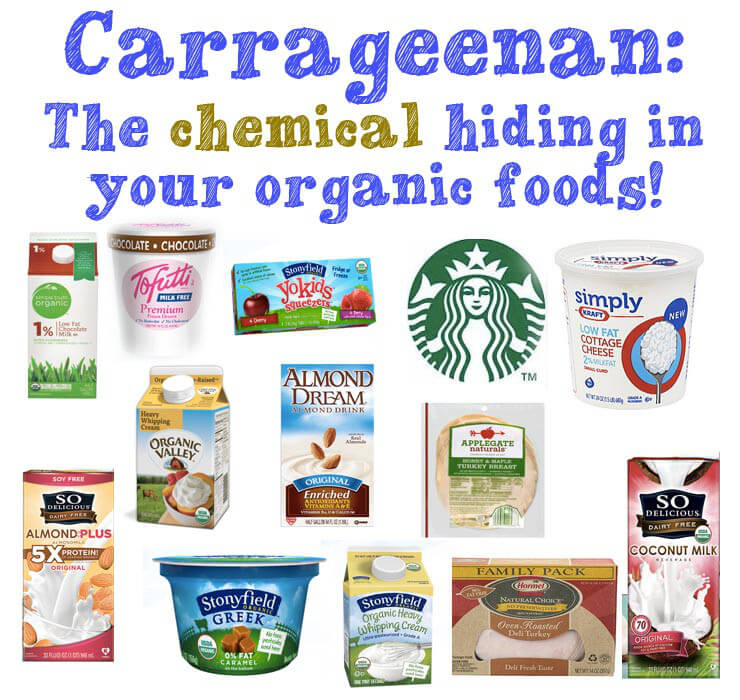 If you are pursuing a natural lifestyle then chances are you've educated yourself about the common harmful ingredients that are found in most store-bought foods and drinks and worked to avoid those. Unfortunately, however, even so called "natural" and "organic" products still contain questionable ingredients that tend to fly under the radar (this is why it's best to make your own almond milk)  But no longer! Have you ever heard of Carrageenan? It has just recently been highlighted as one of these "secret" dangerous ingredients. Carrageenan is an extraction from red edible seaweeds that is often used as a thickening agent. Problem is, it's not digestible and it has zero nutritional value.
So get ready to have your world rocked again 😉 There are numerous products that are championed as natural and organic, some that you might use because of these (false) labels, that contain this ingredient. Don't be afraid to kiss your Starbucks and store-bought coconut milk and almond milk goodbye. Making your own coffee and other ingredients is not only more healthy, less toxic, and more delicious, but it will also save you lots of money in the long run! Get rid of the Carrageenan in your life and continue to refuse to be duped!
"If you've ever purchased store-bought almond or coconut milk, you may have noticed an ingredient called Carrageenan on the carton. This hard-to-pronounce little additive is the reason I make my own homemade almond milk and homemade coconut milk, but it seems that there is a lot of confusion when it comes to Carrageenan.
What is Carrageenan?
According to the Google,
"Carrageenans or carrageenins are a family of linear sulfated polysaccharides that are extracted from red edible seaweeds. They are widely used in the food industry, for their gelling, thickening, and stabilizing properties."
Edible seaweeds, like kelp and Nori, right?
The problem with Carrageenan:
Not so much…
It is important to note that Carrageenan is not digestible and has no nutritional value. It is often used because it thickens and emulsifies products and it is often found even in organic and "natural" products.
It may seem that a simple product derived from seaweed should be non-menacing, and I wish it were. This article explains some of the potential problems:
"Although derived from a natural source, carrageenan appears to be particularly destructive to the digestive system, triggering an immune response similar to that your body has when invaded by pathogens like Salmonella. The result: "Carrageenan predictably causes inflammation, which can lead to ulcerations and bleeding," explains veteran carrageenan researcher Joanne Tobacman, MD, associate professor of clinical medicine at the University of Illinois School of Medicine at Chicago. She says the food ingredient irritates by activating an immune response that dials up inflammation. Her previous work showed a concerning connection between carrageenan and gastrointestinal cancer in lab animals, and she's involved with ongoing research funded through the National Institutes of Health that is investigating carrageenan's effect on ulcerative colitis and other diseases like diabetes.
The concern over food-grade carrageenan isn't new. Beginning in the 1960s, researchers started linking the ingredient to gastrointestinal disease in lab animals, including ulcerative colitis, intestinal lesions, and colon cancer."
Joanne K. Tobacman, M.D., associate professor of clinical medicine at the University of Illinois College of Medicine is one of the leading researchers in the field of digestive health shed some interesting light on carrageenan:"