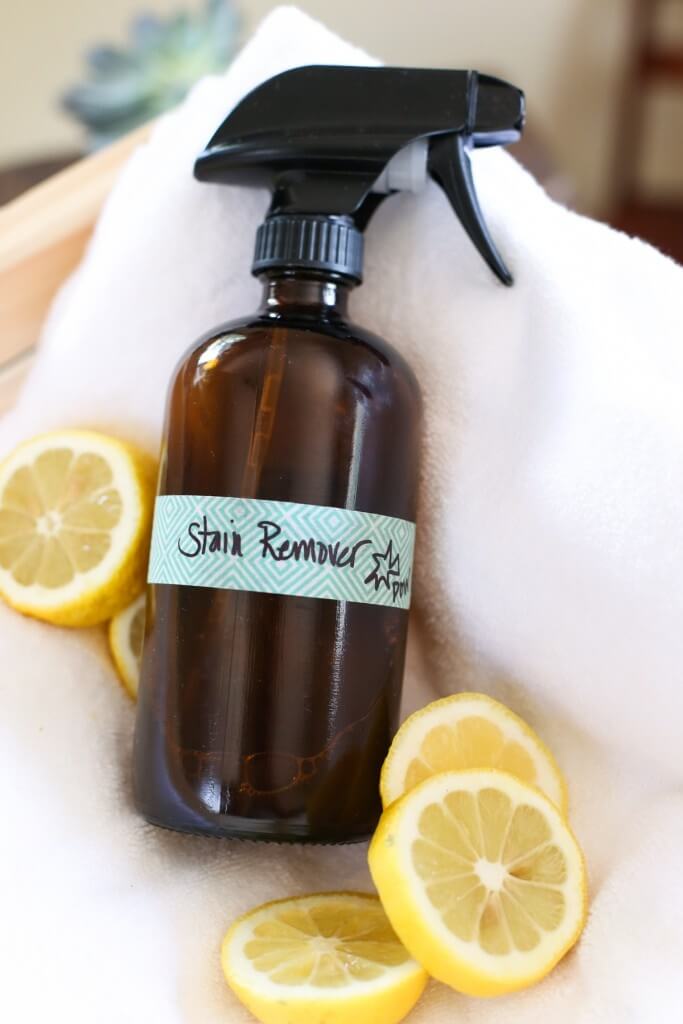 It sounds a bit dramatic, but I mean it when I say that my life changed when I discovered natural, homemade cleaning products. All of a sudden, our bodies and our budget got a break from all the crud that was weighing us down from store bought, chemical-laden cleaning products. Our closet was packed with a wide variety of different cleaning products, and it was breaking the bank. Now, our closet is a lot roomier, with only a few of my homemade cleaning products like glass and stainless steel cleaner, laundry detergent, dish soap, all purpose cleaner, and this DIY homemade stain remover.
"Soon after welcoming my first born child, I decided white was not the color of motherhood. Spit-up, sudden diaper explosions in the middle of the grocery store, and bright green pea puree became my new accessories. How do you white-blouse-lovin' mamas do it? Please share your stain-resistant secrets!
Feeling defeated, my white clothes either sat tucked away at the bottom of my dresser, or the few I actually chose to bravely wear in public were embarrassingly stained. Within minutes of changing into a white shirt or shorts, stain-inducing foods and products from near and far were summoned to come and attack! As if being sleep-deprived wasn't enough for a new mom.
During my first two years of motherhood, I let the stains win. Yep, I raised my stained white flag of surrender. Between trying to move toward a more natural lifestyle, which meant giving up bleach (a chemical Dustin hated before we ever embraced real food or homemade cleaners), and just feeling beyond exhausted from being a new mom, I gave up on even trying to rid my clothes of stains.
Around Piper's second birthday (as I started to feel like a functioning adult again), I made the decision that it was time to come out in public wearing clean, white clothes again. I started researching natural stain-fighting ingredients in an effort to make an easy homemade stain remover.
After days of research, I discovered there are a number of very affordable ingredients that naturally fight stains: lemon, hydrogen peroxide, washing soda (thanks to a high PH level), vinegar, borax, glycerin, and castile soap. With a few basic ingredients I started to feel confident about motherhood and white clothes. I began using a homemade laundry soap for our every day washing, a super effective stain remover spray for those unpredictable mommy moments, a two-ingredient laundry booster, and a homemade color-safe bleach for soaking dull clothes. I love how the same single-ingredient products, when combined in different ways, create multiple different cleaners which fight everything from dirty clothes to stains and everything in between.
We'll get to the homemade bleach and laundry booster another day, although I mention the laundry booster below. Today, let's talk about Mom's best friend: Homemade Stain Remover Spray. Give it up for the spray that's about revolutionize your wardrobe. Say hello to white again! As we all know the proof is in the pudding (you'll be so thankful for this spray after I share my decadent homemade no-cook chocolate pudding recipe next week), so let's take a look at some stain-fighting evidence."