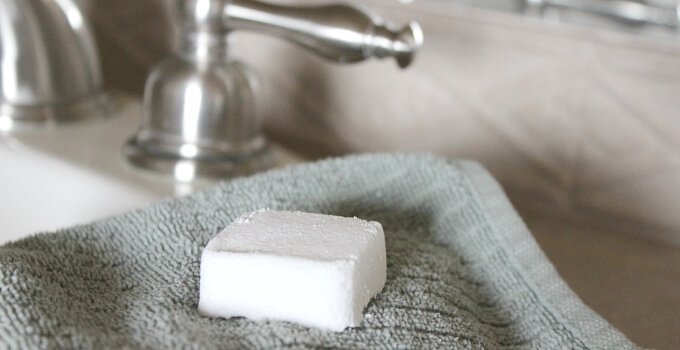 We are big fans of making our own cleaning products. We have found that we save money by making our own, not to mention we avoid countless of harmful chemicals by staying away from the cleaning aisle in the supermarket. Since we do make so many products at home, I like to streamline as much as possible, make in big batches, and simplify the process. That's why we love ideas like turmeric bombs and flu-busting gummy bears to make keeping ourselves healthy easier. These DIY toilet cleaner bombs fall into the convenient category. You can simply throw one in while you're cleaning, and they will be their work 🙂
"I love to create my own cleaning products. This combination of baking soda, washing soda and citric acid not only works great for toilet bowls, it works well for sinks and bathtubs! This is similar to my DIY Automatic Dishwasher Tablets.
How to Use DIY Toilet Cleaner Bombs
Simply drop one tablet into the bowl and watch it fizz. You can use a brush or pumice stone to scrub, or simply let the fizzy combination do it's magic. Be sure to let it dissolve before flushing.
(I love these pumice sticks for added cleaning power!)
You can also fill a bathroom/kitchen sink with a bit of water and add the tablet. Allow to dissolve and scrub. Same for the bathtub. I have even sprinkled water onto the tablet for an immediate scouring paste.
You may have success with laundry stains. Simply moisten and scrub onto the stain. For more natural stain removal tips see How to Remove Stains Naturally.
These DIY cleaner bombs make a great hands-on craft for kids. Simple and non-toxic, you'll have fun integrating them into your natural cleaning routine!"