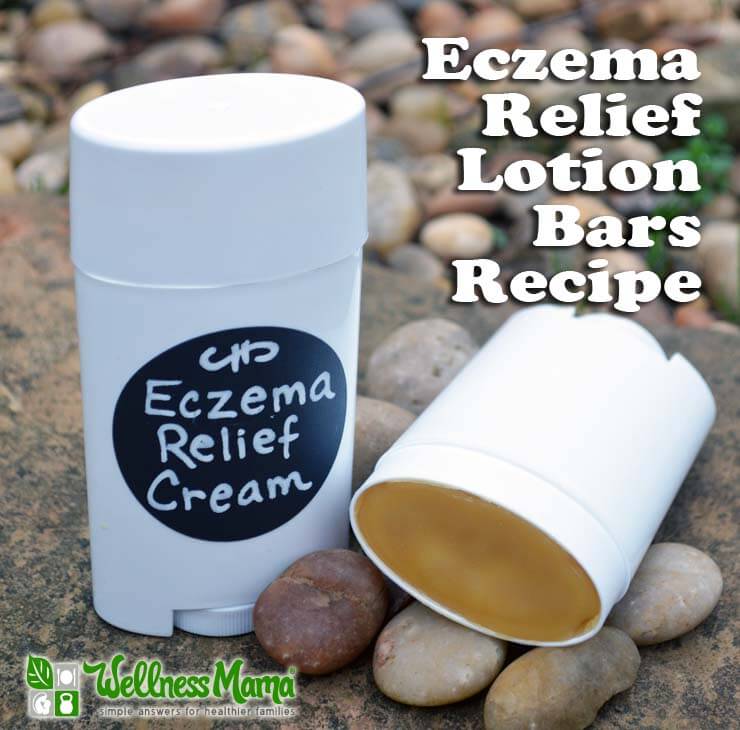 So many people struggle with eczema and desire a natural and effective way to relieve the eczema. These eczema relief lotion bars are the way to go. Because these are stored in plastic deodorant containers, they are easy to store and use. Made with beeswax, essential oils, and a body butter like mango, shea, or cocoa, These bars quickly provide smooth relief for eczema.
"I get a lot of emails about eczema, and I know many people who struggle with it personally. I've talked before about how there is often a connection to a dietary problem for those struggling with eczema and while it is definitely important to address diet, there are some topical solutions that can help offer relief. These eczema relief lotion bars are one of the best options I've found for topically helping eczema.
Books like Gut and Psychology Syndrome and Deep Nutrition offer great guidelines on a healing diet that can help with eczema and other skin issues (as well as behavior problems), and I would recommend looking in to those books.
Lotion Bars for Eczema:
The ingredients in basic lotion bars make them helpful for eczema in many cases. Mango Butter, Shea Butter and Cocoa Butter have a natural SPF and nourish the skin while beeswax helps coat the skin and protect it from drying out.
For those with eczema, I've found that another ingredient can offer additional benefit: fermented cod liver oil.
Fermented cod liver oil has fat soluble vitamins and Omega-3 fatty acids to help the skin heal and to nourish it from the outside-in when the digestive system may not be functioning optimally to facilitate nutrient absorption from food.
These lotion bars are gentle enough for a baby and are excellent at soothing and nourishing skin.
Where to Get The Ingredients:
I typically order most of my ingredients in bulk from Mountain Rose Herbs and for this recipe, I order:"