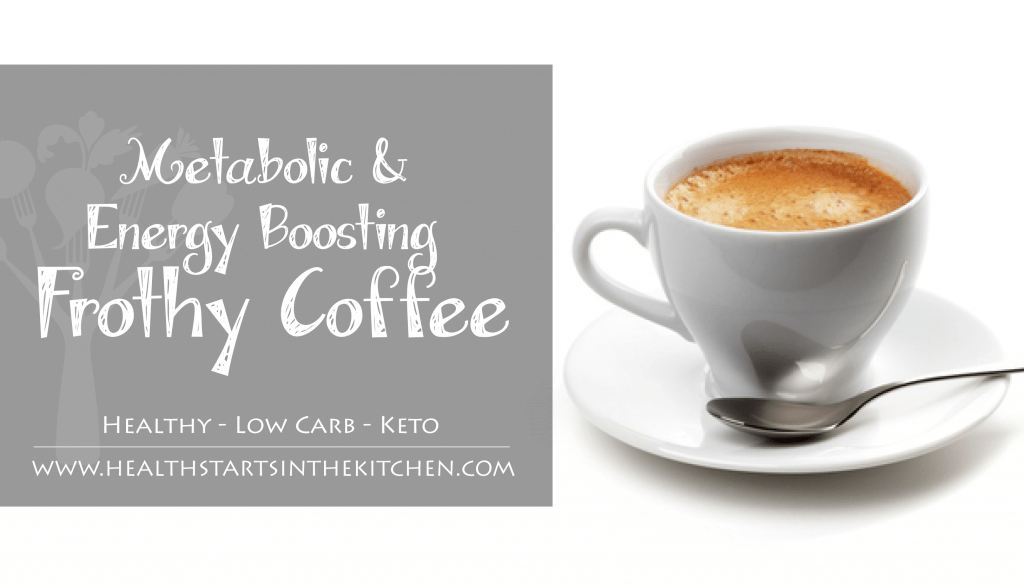 Do you love coffee but feel guilty about drinking it? Have no fear: we have a way to make it healthy 😉  This recipe for energy-boosting frothy coffee adds healthy fats like butter and coconut oil to organic coffee in order to increase your good-fat intake and in turn, your energy levels. So go ahead and enjoy that morning cup!
"Long ago, in a world far-far away — I actually worked. Like really WORKED at a job away from home. Yes – total shocker, I know! I had a boss/supervisor that, well, was a complete mess. I worked in retail buying, she was the buyer and I was her assistant.. let's just call her "Catherine" 
Catherine would stay out all night partying. She'd come to work in the same clothes days-in-a-row, frequently being dropped off at work by her fling from the night before. BUT she was totally nice and I did get along with her and found her party-girl antics very amusing. To each their own right? And for the most part she did function well-enough at work.
Part of my job included keeping my desk stocked with pain relievers and lots of change for the coffee machine. A few times a week she'd call me for a meeting and ask if I could grab her a "frothy coffee" from the vending machine – but never had any money. Go figure, right? That was my hint to grab some pain pills and be prepared for a meeting where she'd want to just chat about crazy night out.
If you've ever had a vending machine coffee (mocha, latte, etc from some sort of power reconstituted in hot water) in those cute little cups  .. you know it's in no way 'good' coffee but it did have a little frothy top on it which made it seem at least a little more special than black with creamer….
Long gone are those days of toxic pain relievers, processed powered coffees, caked on makeup and fashion apparel, since leaving my job to stay home and focus on our homestead (this blog came a few years after that leap)
My morning Metabolic & Energy Boosting Coffee reminds me of those "frothy" coffees….. not for the flavor or the slew of toxic junk in the powder.. but just the lovely thin layer of froth that surprisingly get from an amazingly healthy morning cup of "Joe""