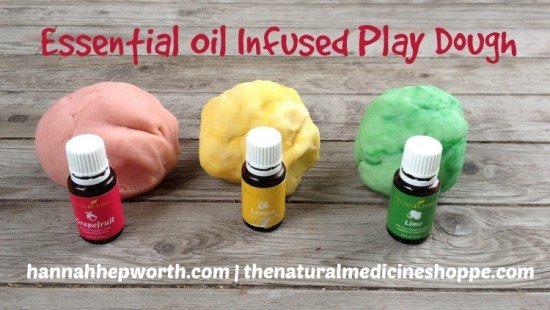 Play dough is a little kid's dream. I remember spending hours upon hours as a child molding and forming play dough into different shapes and objects. So really, due to its ability to sustain entertainment, play dough is a parent's dream, too. Play dough also stimulates brain development and encourages imagination, allowing children to learn and grow as they play. Sadly, the traditional play dough is made of toxic chemicals and harsh dyes, making it fairly unsafe for kids (ironic, no?). So if you're trying to help your kids live a healthy lifestyle by doing things like making your own wipes, encouraging healthy eating, and curing their illnesses with natural remedies, then you'll obviously want to avoid this traditional play dough.
In this homemade play dough recipe, natural play dough is infused with essential oils to promote health and wellbeing. Not only will it make the play dough smell great, but it will help your children stay well by transmitting the oils to their skin. There is really no end to the variety of essential oil infused play dough you can make. You can use grapefruit for invigoration, lavender for calming and sleep aid, or lemon to help with colds or allergies.
"The other day my kids were itching for an activity to do. I suggested that we make play dough and they jumped at the chance. As we were mixing up the dough they of course wanted to add their own colors to make the play dough look cool. I looked over on my counter at my collection of essential oils sitting there and suggested that we add some oils to make it smell nice too.
The idea was a hit!
The kids picked out some yummy, uplifting citrus scents and added them to their individual balls of play dough and squished and mixed away. Having the extra scent was so fun for the kids and just added to the sensory experience.
Citrus essential oils like lime, lemon and grapefruit are invigorating, uplifting, and also kill germs as well. Which is so nice because I often think of how scary play dough can get after kids have played with it a bunch…
I think next on my list is to make some calming versions of play dough by using Lavender oil, Stress Away blend or Idaho Balsam Fir.
Here is the recipe I used for the play dough. Add food coloring and/or essential oils as desired! Enjoy.
Don't forget if you are looking for true therapeutic benefits of essential oils you need to use pure high quality oils."