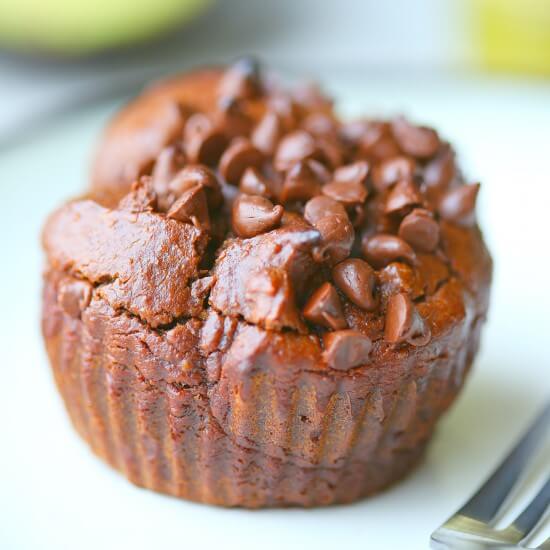 For our family, breakfast is usually kept pretty simple. For one, my kids are usually ravenous upon waking and their little bellies don't have much patience to wait for a detailed meal to be prepared. Also, we try to eat breakfasts high in healthy fat and protein. Most of the time, that means we eat eggs with spinach and other veggies, with a side of avocado, and bacon or homemade sausage or some other left over meat. Sometimes we go the smoothie route to mix things up. But on Saturdays and Sundays, when our whole family is gathered at home together, I like to make it a little extra special. That's when we will all band together and make pancakes, cinnamon rolls, or muffins like lemon poppyseed or these flourless chocolate muffins.
"I am irrevocably in love with chocolate, and I believe some days are meant to start off with a fudgy bite of rich chocolate decadence. That's where my flourless Chocolate muffins come in. These blender muffins are completely flourless, can be free of added sugars and dairy, are naturally sweetened with dates, and are stocked with healthy fats and antioxidants so you can fulfill your chocolate cravings without feeling guilty about your choice.
There are two topics I've seen trending in the healthy living world lately:
What's the easiest way to survive/maintain a paleo &/or Whole30 lifestyle?
What are some quick and easy, grab and go breakfast options that aren't eggs?
How to Survive a Whole 30/Paleo Lifestyle
No matter what dietary guidelines you follow the answer to this question is really quite simple: meal planning and meal prepping/batch cooking are huge yet simple steps to success. Without these straightforward strategies we're really setting ourselves up for unnecessary hardship. That's why George's meal plans are so amazing! He does half the work for us. Trust me; I understand saying it and actually doing it are two different things.
I am a stay-at-home mom to a 20-month-old cyclone of energy and my husband works odd hours as a real estate agent & auctioneer so I don't always get around to prepping my meals for the week either. The weeks when meal prepping falls to the wayside are the same weeks when I tend to hit hiccups with my health.
I try to prep, freeze, and batch cook every free chance I get so if I do hit a snag or my son has a clingy day I will have as many healthy options available for my family as I can. Using a slow cooker is a great way to save time and cook a large portion of meat at once. George's BBQ pulled pork and my Honey Pecan Chicken are two amazing and easy recipes to make, and you can use the meat for a variety of different dishes throughout the week.
Paleo Breakfast Options (NOT Eggs!!!)
As you all know, starting your day off with a healthy breakfast is essential to keeping your body and mind in top form. Most breakfast recipes include scrambled, fried, or poached eggs, but I'm just not a fan! I know, I know. It's blasphemous, but I've never really liked eggs and, from what I can tell, there are others in the world like me and there are others who are getting sick of eating eggs for breakfast.
These flourless chocolate muffins solve both the meal prepping dilemma and the grab and go breakfast recipe requests all-in-one because they are quick to whip up and the recipe makes a full dozen. Every ingredient for these flourless chocolate muffins are paleo pantry staples, and I'd bet most of you have them in your possession at this very moment."