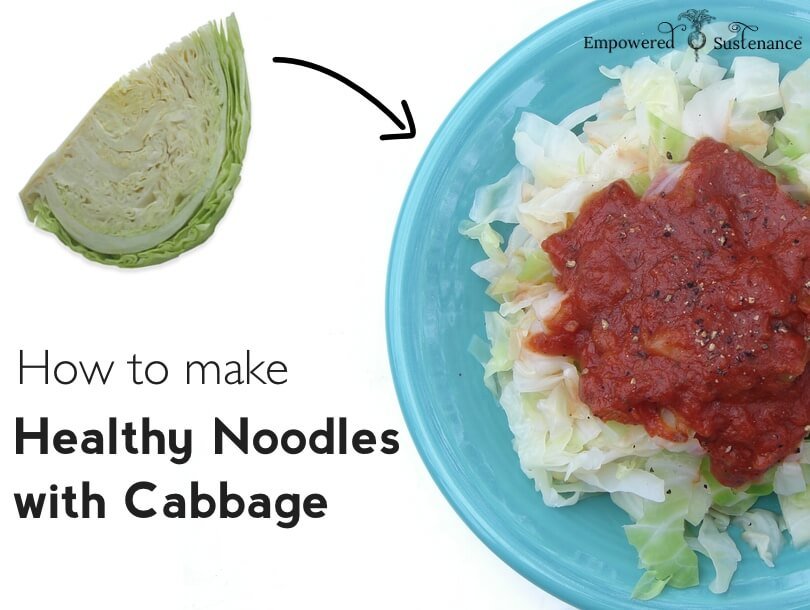 Looking for a healthy alternative to pasta? Wanting a bed of something warm on which to lay a tasty tomato sauce? These grain free cabbage noodles seek to answer those desires. By cooking shreds of cabbage, the cabbage becomes "pasta-like" in form and texture and serve as an excellent substitute!
"Cabbage noodles. The term sounds humorously humble and a little bit intimidating. But, if you are looking for a healthy, non-inflammatory replacement to regular pasta, this may just hit the spot!
Over the past few years that I've been completely grain free, I've experimented with numerous types of pasta substitutes. My favorite is zucchini noodles, which I make with my $7 secret kitchen tool. But recently, I was chopping cabbage for coleslaw and thought that the long shreds of cabbage, when cooked, may make a wonderful base for pasta sauce. I had also seen a few recipes where sliced cabbage was baked with cheese and sauce to create a faux-pasta casserole.
Sure enough, after a quick boil, the sliced cabbage worked wonderfully as a bed for a sauce I whipped up with roasted garlic, olive oil and sausage…
I'm not telling you that a plate of cabbage noodles is going to taste like wheat pasta. It's not… because that's not the point! The point is this: these cabbage noodles, loosely inspired by traditional pasta, provide a quick, healthy, grain free meal."