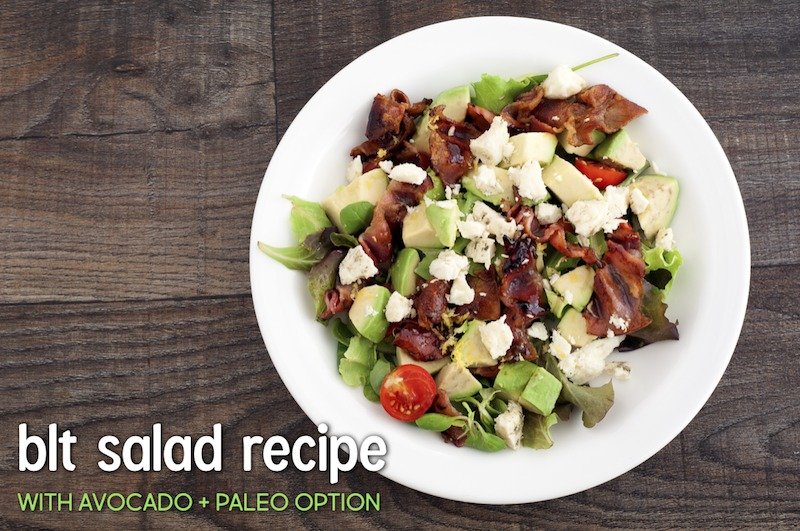 Real foodies – have you ever craved an "old favorite" junk food so badly you thought you might desert your healthy eating ways? Sometimes it's pizza, brownies, or in my case one hot summer day, a BLT sandwich. Although a classic BLT isn't the worst of the worst when it comes to nutrition, I typically avoid it because of the gluten content. On the other hand, I'm all about moderation and balance, and I don't think we should feel a bit guilty for deterring from our normal habits occasionally while on vacation, at a party, or just because you want to. But for me, when it comes to gluten, the way I feel afterward is just not worth it to me. The BLT may taste good in the moment, but knowing how my joints would ache and my belly turn later is enough to drive me away. So I found a way to satisfy that craving without feeling horrible after. I bet you'll never miss the bread with this healthy BLT salad!
The Perfect Summer Salad
Our summers, like many of yours, are typically busy in a different way. The school year brings a more methodical chaos, but the summer is jam-packed with adventures, vacations, and lazy days spent outdoors as family. And while our nights involve many backyard barbecues with potato salad, fruit cobbler, and grilled veggies, I try to keep our lunches as simple, fresh, and delicious as possible.
One of my favorite lunches to throw together is a simple salad. It helps me ensure that we're all getting good nutrients, it allows me to use up leftovers and fresh produce from the farmer's market as toppings, and gives me a chance to experiment with various herb dressings. While most of my summer salads remain fairly simple, I like to mix it up from time to time with a pizza salad or a salad topped with crispy prosciutto. This BLT salad with avocado is one such family favorite.
Healthy BLT Salad with Avocado
This recipe makes 3 lunch portions of healthy BLT salad. You can double or triple as needed!
Ingredients
For the salad:
1 12 oz package of bacon
4 hearts of romaine (chopped)
3/4 cup cherry tomatoes, halved
3 avocados, sliced
4 oz crumbled goat cheese or feta cheese (optional)
For the vinaigrette:
3/4 cup freshly squeezed lemon juice
3 Tbsp dijon mustard
3 Tbsp honey
1/2 tsp sea salt
freshly ground black pepper to taste
Instructions
Cut the bacon up into pieces and cook in a medium skillet over medium high heat. Drain on paper towels and set aside.
Prepare the salad ingredients and toss in a large bowl. Sprinkle the bacon on top.
In a mason jar, combine the vinaigrette ingredients and shake vigorously to combine. Drizzle over salad and toss to combine. Enjoy!
Have you ever transformed a "junk food" favorite into a healthy salad? Share your ideas in the comments below!