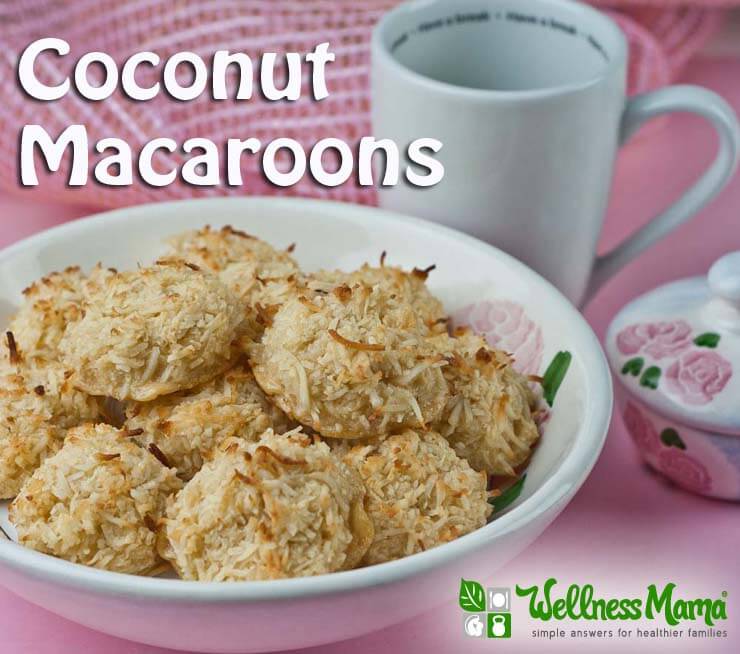 Macaroons are a deliciously light desert and are easily assembled. These healthy coconut macaroons are not only tasty, but provide a great amount of added nutrition thanks to Maca powder, coconut oil, honey/maple syrup, coconut flakes, and egg whites. Let us know if you give these a try – we would love to hear what you think!
"We love all things coconut at our house. We have 101 ways to use coconut oil (includingin homemade toothpaste, coffee, homemade lotion bars and more).
I use coconut oil in baking, roasting, sautéing and frying. I use coconut flour in a lot of recipes but always wished I had more uses for shredded and flaked coconut. This recipe is one of my solutions to that and it is a great way to use the extra egg whites that are left over when I make hollandaise sauce.
This recipe does include a natural sweetener, but it can be reduced or even eliminated if desired. I've found that these are a very light but satisfying dessert recipe and there are many variations you can try (I'll be posting those soon!)
One thing I love to add to this recipe is a tablespoon of Maca powder (this is the one I use). The name even suggests it… "Maca"-roons (get it? – ok, maybe its just me). Either way, Maca adds some extra nutrients and combines with the healthy fats to help balance hormones. If you aren't a Maca fan, you can absolutely just leave it out and make this as basic coconut macaroons."