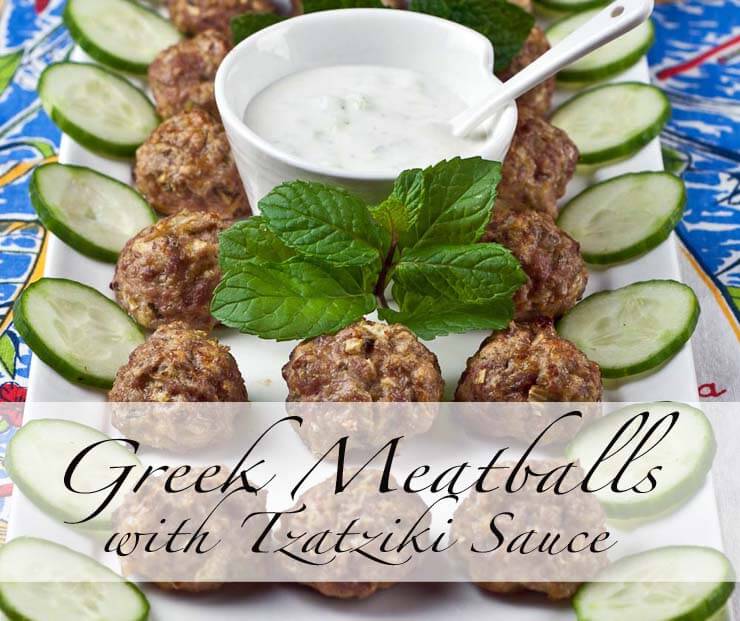 These healthy Greek meatballs are made with grass-fed beef (or turkey), almond flour, fennel, lemon, and other nutritional ingredients combining to make a delightful treat for your tastebuds. Paired with a uniquely flavored and cooling Tzatziki sauce, this makes a fantastic dinner that even the kids will want more of!
"When my husband and I first started dating (after walking across the country together… really), we had the chance to travel around Europe a little. We tried as many new cuisines as we could, and one of the best meals we had was at a delicious Greek restaurant in downtown Brussels, Belgium. I've never been able to find Greek food that good since then, so I'd been experimenting with recipes.
This is my take on Greek Meatballs with Cucumber sauce or Keftedes with Tzatziki Sauce as it was called over there. I love the subtle flavors of the fennel and mint, with the slight citrus hint. My kids even liked this recipe, and I'd encourage you to give it a try!
We especially love this recipe during the summer when cucumber, fennel, and mint are fresh and available at the farmer's markets. I love the savory flavors of the meat paired with the slightly sweet and citrusy flavors of the tzatziki sauce. Leftover meatballs are also wonderful on salads for lunches, just use Tzatziki sauce for dressing.
If you'd like a bigger version, I also have a Greek Meatloaf recipe with similar flavors. The herbs and spices I use for this recipe and many others can be found on my resources page."