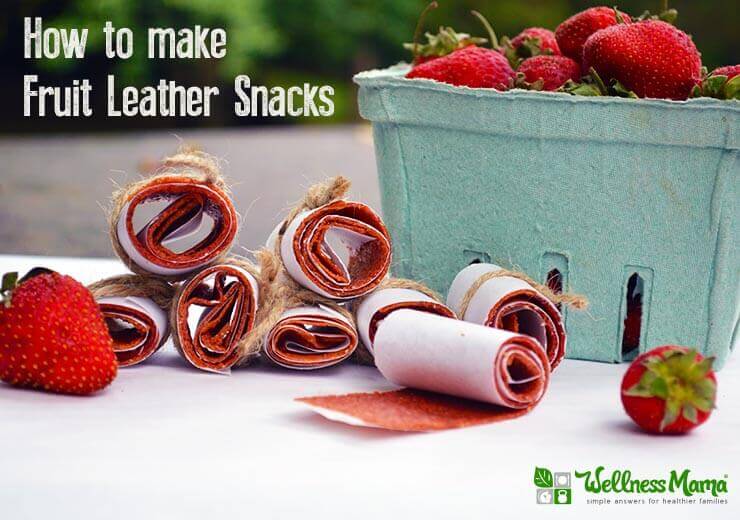 As a part of our effort to teach our kids to love real food, we frequently recreate child-favorites like fruit snacks and vanilla pudding with real food so that they can enjoy what they eat and gradually learn to gravitate toward ingredients that they would otherwise be wary of. These homemade fruit leather snacks is another one of our favorites to make. We love using fresh summer produce like strawberries and beets to create a classic spin on "fruit roll ups". These fruit leather treats are beneficial and easy to take on the go. So if you're headed to the ball field, on a road trip, or to take a picnic – these are great to bring along!
"Our family is really enjoying all of the seasonal produce available right now, especially the berries.
I always stock up on berries when I can find them from a fresh, local and organic source, and freeze and preserve them for the whole year.
Last week, a quart of delicious strawberries was hidden in the back of the fridge and by the time I found them, they had frozen slightly and were very ripe. They weren't great for eating plain anymore, but were still perfectly good, so they became Strawberry Vinaigrette dressing and my strawberry fruit leather with (optional) hidden beets.
What is Fruit Leather?
Fruit leather is a naturally sweet snack made by pureeing and dehydrating fresh fruit. They are similar to a Fruit Roll-up, but without the artificial everything (plus, they taste better!).
These are a kid favorite at our house, and a perfect treat for summer because they can be packed for a snack without needing refrigeration for a few hours. They can be made with only fruit, but I like sneaking in the beets for a little bit firmer of a texture and some extra nutrients.
The beets also intensify the bright red color and beets have properties that make them great for detoxification and fighting inflammation.
You can make this easy and natural snack in an oven or food dehydrator in just a few hours. The recipe is so simple that kids of any age can help make (and enjoy) this fruit leather."