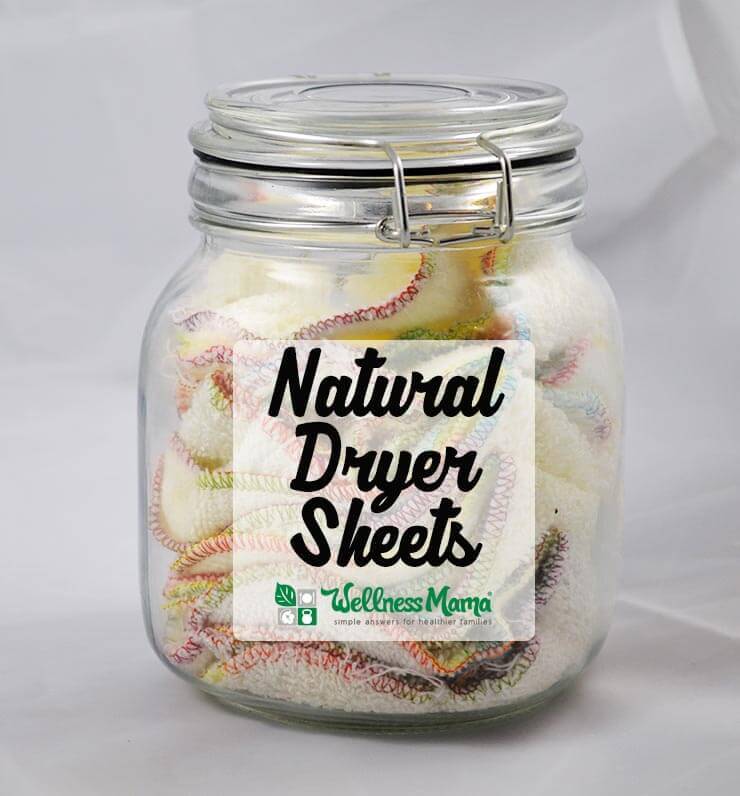 You the saying, "The only sure things in life are death and taxes"? Well, I propose we add a third thing: laundry 😉 Laundry seems to be the never-ending task in our household, even more than cooking and cleaning. As soon as I celebrate the folding and putting away of the last load of laundry, another is ready to be rotated through. Since it's such a huge part of our daily living, we make sure that our laundry products are safe, natural, and good for us. I mean, we wear clothes all the time, and since our skin in our largest organ, we want to make sure we're being intentional about what we put on our bodies. So we make our own laundry detergent, starch, bleach alternative, stain remover, and dryer sheets. This post will show you how to make natural dryer sheets with just a few items!
"When I was little, one of the things I looked forward to about growing up was doing my own laundry… but not for the reason you'd think. I wanted scented laundry detergent and dryer sheets. My mom smartly used an unscented natural detergent that was closer to the homemade laundry detergent I use now, but I wanted the heavily scented chemical stuff that all my friends used.
I actually did use those artificially fragranced harsh detergents in college, and eventually realized that while they smelled good, they weren't all they were cracked up to be and they gave me a headache.
When I had kids and made the switch back to natural detergent, I missed my clothes having that "clean" smell I had become so used to. Using essential oil scented soap in my DIY recipe solved this problem somewhat, but I realized that the scent didn't stick around after the clothes were dried.
Natural Dryer Sheets
I stopped using conventional laundry detergent and dryer sheets, but desired a solution that would leave a fresh scent on clothes naturally.
I was also frustrated with the static cling that was tough to get rid of without dryer sheets. After some experimentation I found a two-fold solution that left clothes static-free and nice smelling without the harmful artificial fragrances:
Homemade Natural Dryer Sheets
Wool Dryer Balls"