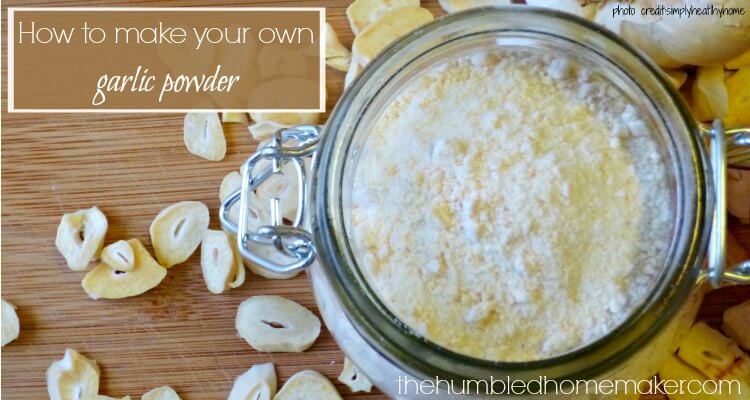 When I first began my real food journey, I started small. It felt incredibly overwhelming to go from an extremely processed, very fast food filled diet to making real, organic food from scratch. So I didn't start with a gluten or dairy free diet. I simply began by making food from scratch. My first successful round of homemade biscuits made me feel like I could conquer the world. I dove into homemade pizza and smoothies. That was my catalyst for transitioning to making bone broth and homemade dressings. Now, one of my favorite things to make from scratch are spices! In the beginning of my journey, just the thought of that venture would scare me, but now, it's actually a lot of fun to whip up a Moroccan spice blend or a homemade pumpkin spice. This post will show you how to make your own garlic powder, which is another favorite in our house. Enjoy!
"When I started gardening I was rather clueless about a lot of things. Despite the odds, our first year yielded some great crops. So, when it came time to garden plan the following year, I expanded our garden.
What I was unprepared for was the vast amount of vegetables that would grow and I would need to somehow preserve. (I know, gardening 101, but seriously, I did not grow up in the country!)
One of our bumper crops that year was garlic. It was amazing to pull these beautiful bulbs out of the ground! I carefully hung them up in our barn to dry. Then, as fall rolled around my husband asked me, "What are you going to do with all that garlic in the barn? You cant't leave it out there all winter."
Right. I hadn't thought that far ahead. Sigh.
I knew the garlic wouldn't last all winter because we didn't have a proper way to store it. That is when I decided I would try my hand at dehydrating it and making my own garlic powder.
I was amazed at not only how easy it was but also the flavor! It was so fresh and strong, a far cry from the grocery store brand we were used to.
While it can be a bit time consuming, it is totally worth it. Spice powders from the store can often contain preservatives, while your own will be free of unwanted chemicals. I have made many spice powders, including onion powder, and have never been disappointed.
The fresh spices will make your homemade salad dressings and dips taste fantastic.
Spice powders can also make fun gifts as well as a great project to do with your kids.
A great time to take on garlic is when you catch a good sale. Stock up and make big batches. I do this with celery when I can get it fresh from local farm stands.
I love making things that are normal grocery staples at home!"