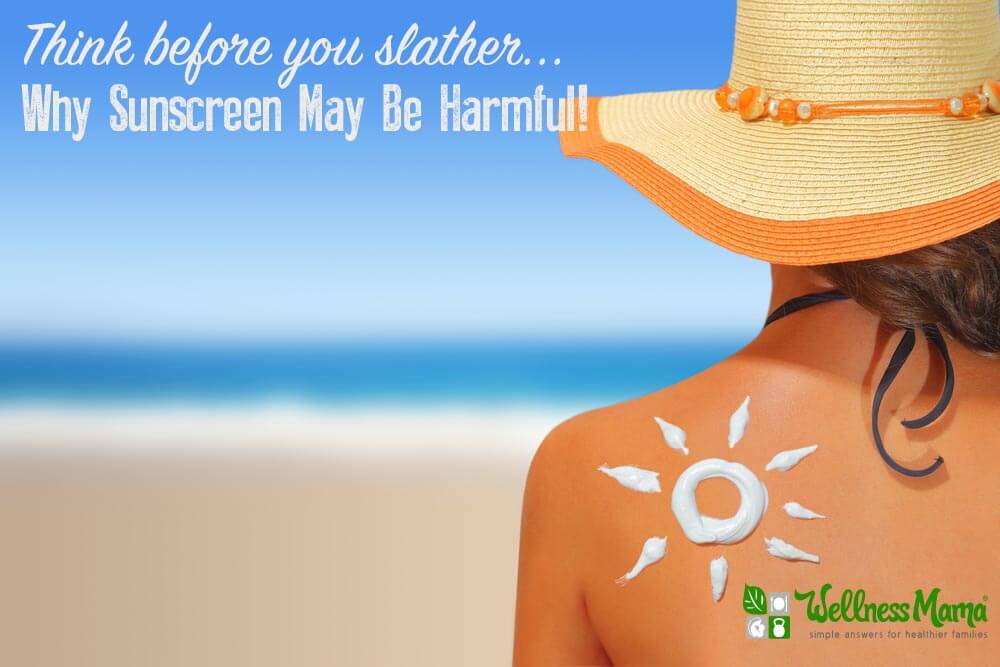 If you've been a part of the Wellness Media family for a while, then you know that we are big fans of getting enough Vitamin D. We get Vitamin D from the food we eat, but also through exposure to the sun. Of course, we are not champions of sun over-exposure, as we take skin cancer very seriously. Fortunately, we think there's a balance! That's why we refrain from using mainstream sunscreens and instead stick with our homemade versions like this one and this one. This article answers the common question, "is sunscreen dangerous?", and provides suggestions for alternatives.
"Years ago, I shared my homemade sunscreen recipe and explained why I avoid most conventional sunscreens. Recently, reports from the Environmental Working Group (EWG) and Consumer Reports have warned consumers against using many types of conventional sunscreens, especially on children.
Sunscreen is Harmful?
Sunscreen use has risen in past decades, as media outlets and doctors tout the benefits of sunscreen for protecting against skin cancer and sunburn. The problem with this billion dollar a year market: not all sunscreens are created equal and in many cases sunscreen is harmful, not helpful.
Here's why:
There are two ways that a sunscreen can protect the skin from sun damage: with a mineral barrier or a chemical one.
Mineral sunscreens typically include ingredients like zinc oxide or titanium dioxide, which create a physical barrier to protect the skin from the sun.
Chemical Sunscreens…
Chemical sunscreens use one or more chemicals including oxybenzone, avobenzone, octisalate, octocrylene, homosalate and octinoxate.
If you've been around my blog before, you've probably seen my stance that if you can't eat it, you shouldn't put it on your skin, but these sunscreen chemicals raise some special concerns because many are able to cross into skin and other tissue.
With these chemicals, it is important to ask questions such as:
Will this cross the skin and get into other tissue in the body?
Does this chemical have the potential to disrupt hormones, especially in children?
Are there long-term or allergy reactions to these chemicals.
This new research by the EWG reveals that the chemicals commonly used in sunscreen are endocrine disruptors, estrogenic and may interfere with thyroid and other hormone processes in the body.
The most common sunscreen chemical, Oxybenzone, was found in 96% of the population by a recent study by the Center for Disease Control and Prevention. This is especially alarming since oxybenzone is considered an endocrine disruptor, can reduce sperm count in men and may contribute to endometriosis in women.
The EWG warns against using oxybenzone, especially on children or pregnant/breastfeeding women.
Even more alarming?
Of the 1,400+ sunscreens tested by the EWG, only 5% met their safety standards and over 40% were listed as potentially contributing to skin cancer.
I explain the reason that sunscreen may actually lead to skin cancer in this post, but one of the reasons is that a Vitamin A derivative, retinyl palmitate, that is often used in sunscreens was shown to speed up the growth of cancerous cells by 21%.
Spray sunscreens have become increasingly popular in recent years, but have additional dangers, especially if inhaled. Consumer Reports warns that spray sunscreens should not be used on children and that adults should exercise caution and make sure not to use on the face or inhale them.
Many sunscreens also contain methylisothiazolinone, which the American Contact Dermatitis Society named as its "allergen of the year".
The EWG's most recent report listed Neutrogena as the #1 sunscreen brand to avoid, citing high concentrations of oxybenzone and other hormone disrupting chemicals, and misleading claims about their SPF levels."