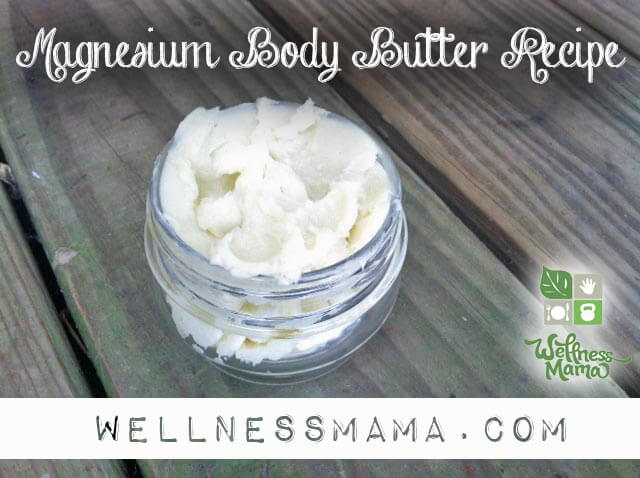 This recipe uses all natural moisturizing ingredients and makes skin soft and silky. It is great for kids too and doesn't have the tingling that regular magnesium oil has when you first start using it.
Magnesium Body Butter doesn't have any preservatives, so I make in smaller batches and keep for up to two months without a problem. It can also be stored in the fridge for a thicker and cooling lotion that is great to use after sun exposure to help the body absorb Vitamin D.
Coconut oil and shea butter are both naturally SPF of 4-5 and magnesium is needed for absorption of Vitamin D, so this lotion is great for mild sun exposure. I use this or regular magnesium oil on my kids feet each night to help them sleep and boost magnesium levels. It is also great on sore muscles. You can add essential oils for scent, but be careful about essential oil use during pregnancy, and don't use citrus oils if you'll be using this in the sun as they increase sun sensitivity.
[Photo Source: WellnessMama.com]