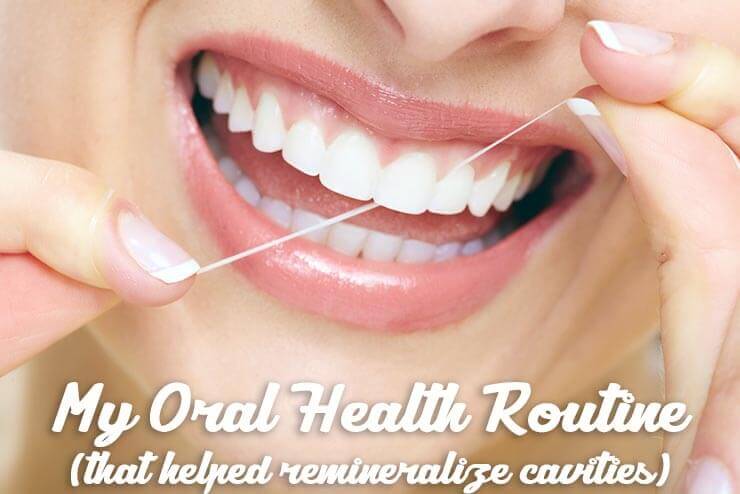 In recent years, my family has truly discovered the importance of oral health and the effect that it has on the health of the rest of our bodies. We've also discovered how detrimental mainstream oral care products are for our teeth. That's why we've switched to more natural oral care products like remineralizing toothpaste and activities like oil pulling. Since we've made this switch, we've seen enormous improvement in the health of our teeth, even to the point of improving almost-cavities! This post explores a oral health routine for remineralizing cavities.
"My post about how to remineralize teeth naturally has gotten hundreds of comments and questions over the years. Most commonly, questions are about the specific oral health routine I used to help my teeth remineralize or specific products I used.
Check out the original post for the specifics on how cavities can remineralize and why I chose the products I did, and this post answers the specifics of what I used. If you are new to the idea of remineralization, this interview with a dentist about the body's ability to remineralize teeth may be helpful too.
Personally, I had two small cavities that my holistic dentist was willing to wait on filling, and after using this protocol they had remineralized and no longer needed to be filled. Of course, I am not a dentist and you should check with yours about your own personal oral health, but I'm sharing my experience and routine for informational purposes only.
My Daily Oral Health Routine
This is the oral health routine that I personally follow daily (or most days) that helped remineralize me teeth and that I now use to help avoid any new cavities.
Morning: As soon as I wake up, I do Oil Pulling with Coconut oil. Spit, Rinse Well and Swish with clean water.
After that, I brush with homemade toothpaste or homemade tooth powder with 3 drops of OraWellness Brushing Blend and a Bass Toothbrush.
Then I drink a couple glasses of lemon water to start my day and usually take some Marine Phytoplankton (for energy and cellular health).
Breakfast: Take 1/2 to 1 teaspoon of Fermented Cod Liver Oil/Butter Blend. Eat breakfast high in healthy fats and proteins.
Lunch and Dinner: I include Homemade Bone Broth, at least two sources of healthy fats, protein and vegetables. (See my recipes for Ideas) or Bone Broth Tutorial for instructions on bone broth.
Evening: I brush again with homemade toothpaste or homemade tooth powder with 3 drops OraWellness Brushing Blend and a Bass Toothbrush. If I'm trying to whiten my teeth, I also brush with Activated Charcoal powder, which works wonders!
Bedtime: I don't eat after 7 pm and try to be in bed between 10-10:30 to allow maximum restorative sleep and optimal hormone production. I sleep on an earthing mat to help reduce inflammation and spray myself with magnesium spray before bed to improve sleep and make sure I'm getting enough of this important mineral. Have trouble sleeping? Check out these four helpful hacks for falling asleep."