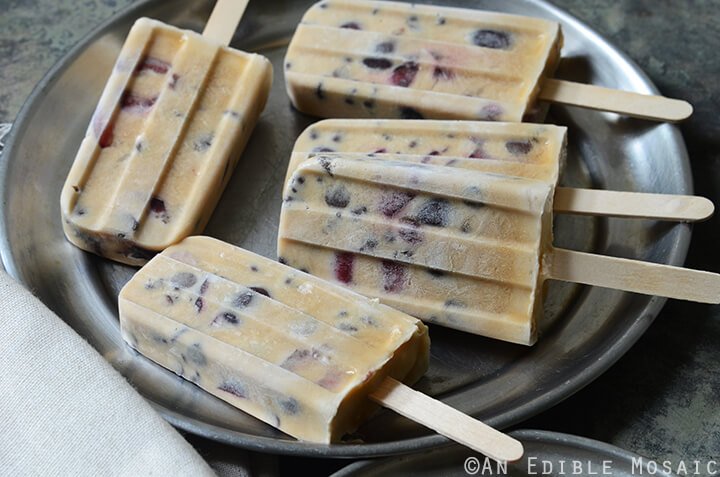 One of our favorite family summer activities is diving into all the fresh fruits and vegetables available. We enjoy picking strawberries, checking out our local farmers' fresh peaches, and reaping the benefits of our generous friends and family's personal gardens. We love examining our loot and deciding how to prepare it – whether it be a berry cobbler, herb dressings, or a peach upside down cake. These yummy paleo cherry chocolate chip coffee popsicles are another to add to the list. My, oh my, how all the good things collide in this dessert! The sweet chocolate, the tart cherries, and the smooth coffee blend together beautifully – enjoy!
"I'm not even joking when I say I could live off cherries and nothing else during their teasingly short season. (Even despite all those warnings about the collywobbles my mom gave me growing up.)
Collywobbles or not, a five pound bag of cherries never lasts long in my fridge.
I always pick up a big bag of cherries with every intention of actually making something with them, as opposed to just stuffing them in my face as-is. Cherry clafoutis, cherry pie, cherry jam…even savory cherry-centric things like cherry salsa and cherry sauce for chicken vie for my attention and definitely entice me, but can't seem to dissuade me from eating them straight.
Suddenly I'm left with naught but the bottom of the bag, wishing I had finally made something with them this time. (I never learn though, lol.) The good thing about these popsicles is that even if you're short on cherries, you don't need many for this recipe; a mere 3/4 cup is all that's required.
I used coconut cream for creamy texture here, and in addition to cherries, the main flavors are chocolate and coffee. Admittedly, there's a lot going on flavor-wise, but somehow it works. Plus, these pops are just so pretty…if those gorgeous flecks of red cherries and pieces of chocolate don't tempt you, I don't know what will."