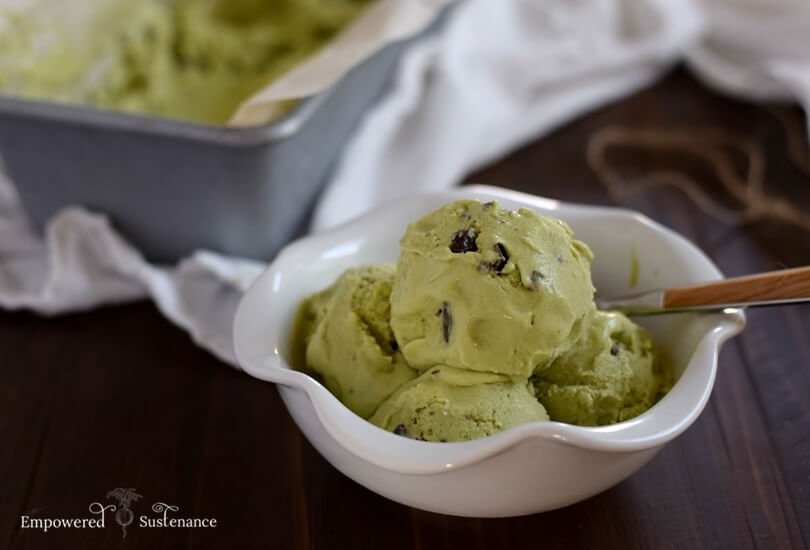 We love homemade ice cream, especially during the summer. Nothing quite spells summer like enjoying chocolate chip cookie dough ice cream sandwiches, cherry chocolate coffee popsicles, or chocolate ice cream in the backyard at the end of a long day, watching the kids play and enjoy the fruits of our ice cream labor. That's good summer living, right there. My husbands favorite ice cream is mint chocolate chip ice cream, so I'm constantly searching for healthier recipes so he can enjoy it without feeling physically bad. This paleo mint chocolate chip ice cream is made with fresh ingredients and lots of coconut products for your dose of healthy fats.
"Ice cream has always been my favorite treat, and dairy free ice cream has naturally taken its place now that am dairy-free. I share quite a few dairy free ice cream recipes on my blog because I'm a tad obsessed, and because what better treat is there in the summer?
Paleo Mint Chocolate Chip Ice Cream
This ice cream is creamy and packed with the mint, chocolaty flavor that you get from classic mint chocolate chip ice cream. The carob chips have a slightly different flavor than chocolate chips as carob is fruitier than bitter chocolate, but this is the favorite chocolate chip replacement that I've had. Sweet and rich, the carob bars were loved my both myself and chocolate-eaters. If you can eat chocolate, feel free to substitute the carob powder with cocoa powder to taste or replace the carob bars with chocolate chips. And don't worry about the avocado- the flavor is masked by the mint, coconut and honey, and you won't taste avocado at all.
Ingredients
Carob chips:
½ Cup coconut butter, available here (not to be confused with coconut oil)
3 Tablespoons coconut sugar, available here
3 Tablespoons carob powder, available here
2 ½ Tablespoons coconut oil
Ice cream:
1 (14 oz) can full fat coconut milk, (recommended: this one, which is creamier but contains guar gum, or this one, which is additive-free)
1 Teaspoon pure vanilla extract"