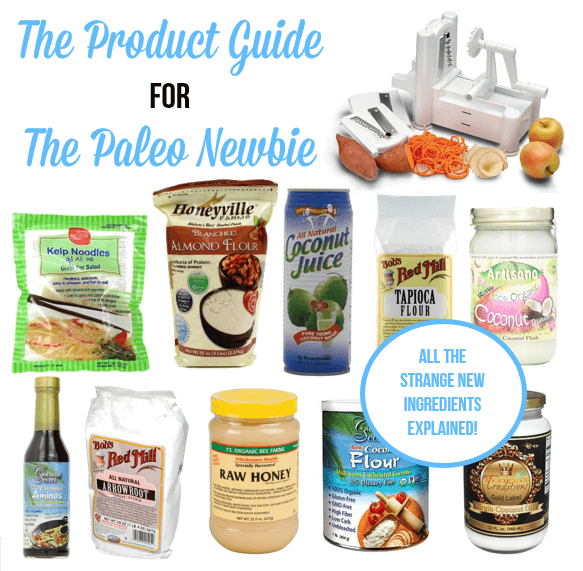 Are you new to the Paleo diet and lifestyle? Do all the new ingredients confuse you? Overwhelmed by the amount of the Paleo product options like coconut oil and raw honey? That's ok, we've got you covered. This post explains the strange new ingredients you'll be reading/hearing about, and offers terrific recommendations on where to find these Paleo products!
"When you start out on a paleo lifestyle, you will probably come across many recipes that have ingredients or equipment you have never heard of before (Coconut Aminos? Spiral Slicers?). Below is a breakdown of what some of these mystery products are, where you can find them, and why they are part of a paleo lifestyle.
Spiral Vegetable Slicer
If you have to purchase just one product that will help you out on your paleo journey, it is probably this one. The 

Spiral Slicer

 is the latest paleo "must-have" kitchen tool, and with it you can turn many vegetables and fruits into healthy (and paleo friendly) noodles! I haven't seen these is stores but I recommend 

this brand

 online.Zucchini and sweet potato noodles are among the top favorites, and with some homemade spaghetti sauce on top you really won't be missing your wheat pasta anymore. My favorite recipe is 

Zucchini Noodles with Avocado Cream Sauce

.
Coconut Aminos
Coconut Aminos

 are the paleo equivalent of soy sauce, and you will find them used in a lot of recipes for marinades, dressings, stir-fry, etc. These can be found at many natural food stores, usually near the soy sauce, or you can just order them 

online

.

Coconut Secret Coconut Aminos

 are made from raw organic sap and sea salt, and the taste is almost identical to soy sauce. This product allows you to still get the essential amino acids that our bodies need, but in a paleo and gluten-free way."