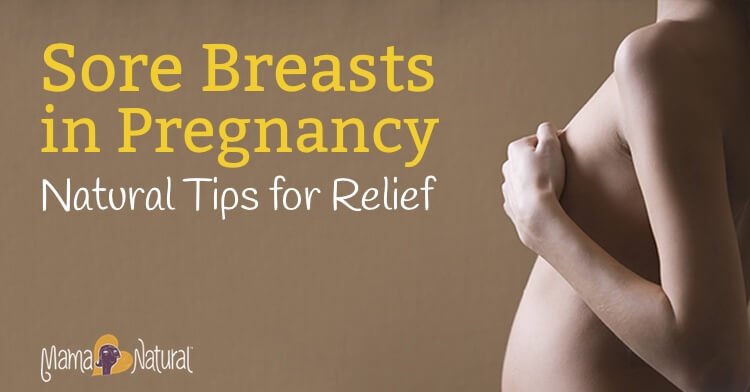 Pregnancy books tend to agree that one of the first signs of pregnancy for many women is sore breasts. For a woman trying to conceive, then, sore breasts are an oddly welcomed guest … but not for long. With all the hormones surging as the body adjusts to growing another human, things like morning sickness, heartburn, and sore breasts are common. Thankfully, these natural remedies for sore breasts during pregnancy can bring much relief to an expectant mama!
"Your body is changing. It's forming a new being! There are bound to be side effects. Hormones are surging and can wreck havoc from day one of conception. Hormones can cause morning sickness, heartburn, and a slew of other symptoms, including sore breasts!
The one good thing about sore breasts in pregnancy is that it is often the first indication that you are pregnant! Sore breasts often come before you even pee on the stick.
Here's the scoop on why we get sore breasts in pregnancy, and some natural tips to provide relief.
How sore is sore?
While not every woman will experience this symptom (I didn't), many will. During the 1st trimester, many women complain that the level of breast soreness is beyond anything they've experienced before. It's definitely a more exaggerated tenderness than occurs during your monthly cycle. For some mamas, a slight breeze feels like it could knock you to your knees. Is this an exaggeration?… Sort of. But not really. The slightest touch, or bump, or even your clothes brushing against them can be extremely intense for some.
Why so sore?
Your breasts are preparing to feed baby. There's a fat layer that thickens inside of the breasts. The milk glands multiply. Blood flow increases. And even nipples can change size, shape, and thickness. All these changes start to make your breasts sore and bigger.
The fact your breasts are getting bigger may be quite exciting and intriguing for your significant other. However, many women want nothing to do with someone touching their breasts during those first few weeks of pregnancy. Thankfully, this will pass as your pregnancy goes on.
But what can we do now to make the soreness go AWAY?
Natural relief for sore breasts in pregnancy
The tenderness will simmer down as you approach your 2nd trimester. Until then, here's a list of natural relief for sore breasts in pregnancy:
Supportive bra
I'm not a huge proponent of bras, in general, as I believe they close-up the lymph system. However, during those first few weeks of pregnancy, harnessing your boobs can really help to ease any discomfort or pain."