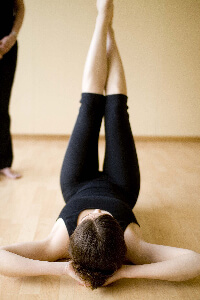 Women have special needs when it comes to core fitness. Anatomically, we are built differently than men. Our pelvises are broader, our pelvic floor muscles are wider and more flexible, and we go above and beyond when it comes to pelvic organs (ladies and gents, put your hands together for the uterus and ovaries!). Pregnancy presents a particular challenge when it comes to the muscles of the core: The growing bundle of joy stretches and strains the abdominal and pelvic floor muscles, and postural changes that occur during the second and third trimester can cramp and kink the back and hip muscles. It is truly amazing that we are able to physically function – and, for the most part, bounce back – after the miracle of carrying and birthing a child!
Consider this: When the core and pelvic floor muscles are strong and working well, pelvic organs are held in place, you don't leak when you sneeze, intercourse is stimulating and pain free, your back does not hurt, and balance is not a concern. But when the inner core is weakened, particularly the pelvic floor (for example, after childbirth or with deconditioning that results from a sedentary lifestyle) the following problems can occur:
Incontinence
Back and/or pelvic pain
Difficulty with arousal and/or vaginal lubrication
Bladder, uterine, or rectal prolapse
Instability of the trunk and pelvis, contributing to balance problems (ultimately increasing your risk of falls and fractures)
Take a look at the first bullet point (above). Did you know that 47% of women between the ages of 20-49 have experienced urinary incontinence? Leakage is not confined to the elderly! Have you ever heard the joke: "I laughed so hard that tears ran down my legs?" Amusing? Yes… But incontinence and other issues related to core and pelvic floor weakness are preventable and treatable if you follow a few simple rules when it comes to fitness.
[Photo Source: WellnessMama.com]