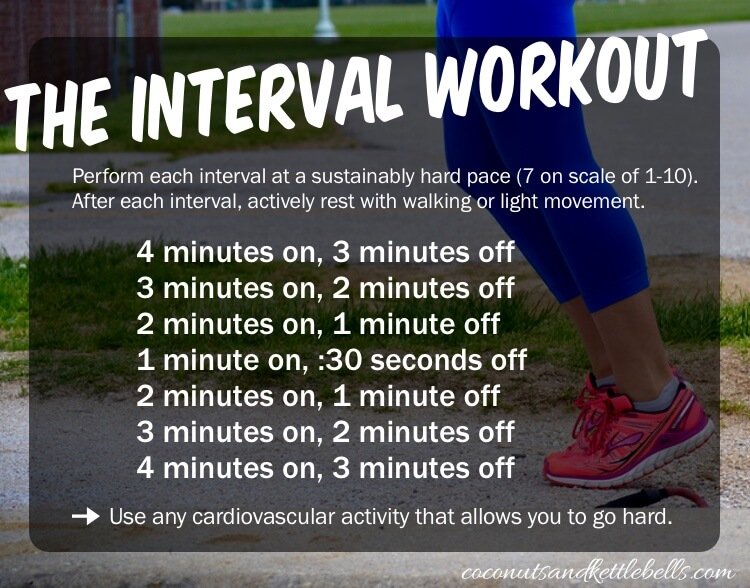 With our busy lifestyles and raising children at home, our schedules and budgets don't allow us to spend hours upon hours at an expensive gym to maintain our exercise needs. It's just the reality of this season of life. And while it can be tempting to just throw up our hands and say, "I can't exercise, I just don't have the time!", most of us realize that we function much better when fitness is a part of our daily routine. It makes us better people, so it's worth it to find ways to input fitness into your daily life. That's why we love short and effective exercises like this kettlebell workout or these simple moves to reduce the effects of sitting. This at home interval workout is another fast and intense routine that you can complete quickly once the kids are in bed 🙂
"Interval workouts, by definition, are workouts that alternate high-intensity exercise with low-intensity recovery periods.
While this idea seems fairly simple, many people are incredibly confused with how to go about engaging with interval training. If that's you, I'm going to quickly uncomplicated things so you can successfully integrate intervals and high-intensity exercise efforts into your life without inhibition.
Put simply, when doing interval training, all you need to do is go harder than what would be considered a comfortable pace for you. Depending on how long the interval is, you can choose to go more hard, or less hard. Depending on the intensity of the effort, you can choose to have a period of more rest, or less rest.
And that's basically it.
Now of course, there are a lot of different types of interval workouts, and the work to rest ratios can vary greatly depending on the goal of the workout, however – if you're just getting into interval training, any sort of workout you choose to do will benefit the body.
A great place to start is to simply go hard (remember, this just means going harder than a comfortable pace) for a specific period of time, and resting the same time it took to complete the interval. So, you might find doing 4-6 rounds of :30 on, :30 off is less intimidating and rather easy to implement mentally.
From there, you can move on to engaging with slightly less repetitive and more interesting interval workouts, like the interval workout listed below. You'll notice it includes both short and long intervals in "ladder" form, and the rest is shorter than a 1:1 ratio. Because of this, the efforts should only be about a 7 on a scale of 1-10. Your goal is to keep the same effort throughout the workout, which will help build both anaerobic and aerobic capacity, and muscular speed and endurance.
Why Interval Training?
As I've mentioned before, interval training is great for improving metabolic function, body composition, and cardiovascular fitness. Despite taking significantly less time and energy to complete, studies show high-intensity interval training results in significantly more fat loss in comparison to cardio, and improves insulin sensitivity, heart health, and anaerobic and aerobic work capacity. While cardio definitely has its place, I find people experience better results, and expose their body to far less inflammation when utilizing interval training over cardio to build aerobic and anaerobic capacity."