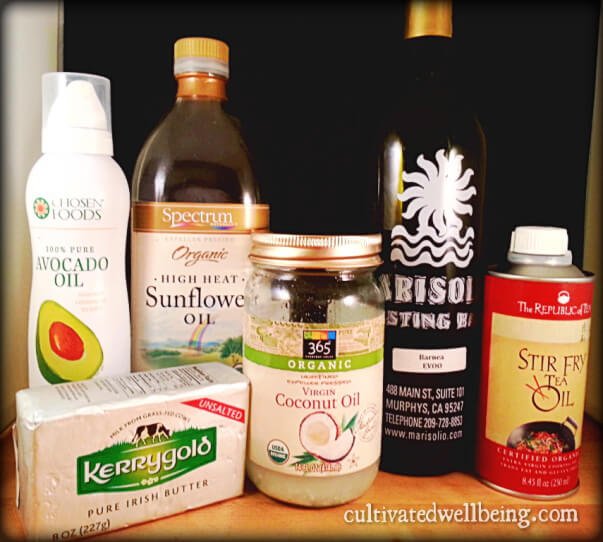 We approach cooking oils a bit unconventionally at our house. We use olive oil in our body scrubs, coconut oil in our lotions, and just yesterday, I saw my husband feeding our toddler a spoonful of grass-fed butter straight from the container 😉 It's no secret that we love healthy fats and use them as much in our personal care as we do our food. But when it comes to actually cooking with oils, it can be confusing as to which oil is best to use in which circumstances and with which food. This ultimate guide to cooking oils will remedy that problem for you, guiding you through the various types of healthy cooking oils and how to choose one that will make your receipt shine 🙂
"Choosing which cooking oil to use for what task in the kitchen is an important component of food preparation. Certainly the flavor an oil imparts on the dish plays a role in which oil you choose, but it's about a lot more than that. Today's kitchen hack is about flavor, safety, nutrition, and active disease prevention.
Your Ultimate Guide to Cooking Oils
A super important factor when choosing which cooking oils to use and how to use them is the smoke point.
Smoke point is defined as the temperature at which the oil starts to smoke.
If you heat an oil beyond its smoke point, not only does it make your food taste burnt, but you also run the risk of starting a grease fire in your kitchen. Additionally, you don't want your oil to smoke in your pan because once it reaches that state, it oxidizes and becomes rancid. The oxidation process takes a perfectly good oil and creates a harmful substance full of free radicals that has lost its beneficial health properties. Oxidized oils result when the glycerol in the oil breaks down to acrolein. Acrolein is a major component of cigarette smoke and is a known carcinogen, so it's important not to burn your oils while cooking.
To be perfectly honest, when I see numbers in reference to anything other than cooking in an oven (where you actually set the number), my eyes glaze over. I'm about to throw a few numbers at you, and I also have a chart with lots of numbers at the bottom of this post as your quick, easy reference guide. SO, I've borrowed this handy-dandy little list of typical temperatures across all methods of cooking from Tiffany at Don't Waste the Crumbs. This way, you can have an idea of which methods go with which numbers down below.
Which Cooking Oils Are Best for High-Heat Cooking?
Coconut oil, palm oil, and ghee all have high smoke points and work well as your go-to sauteing, roasting, frying, baking, and even grilling oils. Not only are they stable and medium to high temperatures, they're also rich in healthy saturated fats, fat soluble vitamins, antioxidants, and valuable compounds for weight loss (CLA in ghee and short- and medium-chain fatty acids in coconut and palm oils)."