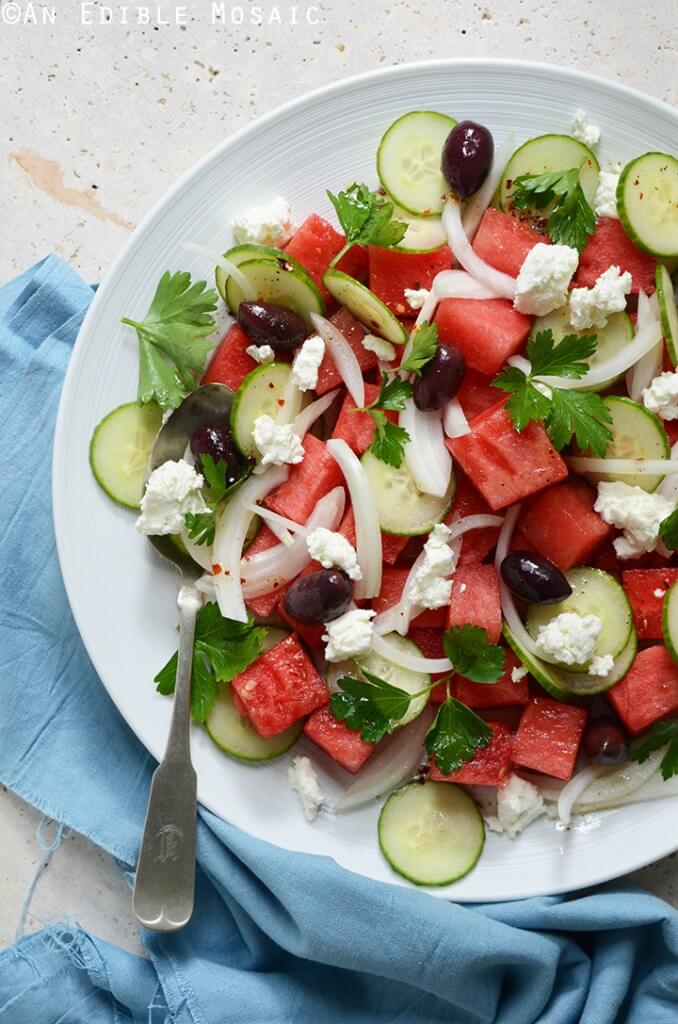 One of our very favorite things about the summer season is the CSA our family participates in. First, we love knowing where our food comes from, knowing that it's grown properly and organically. Second, each week is like a big mystery! While there are certain constants in terms of what fruits and veggies arrive, every week brings a newness of food that challenges us to stretch our cooking creativity and make dishes like creamy tarragon zucchini, spring soup, and gluten free spring rolls. Sometimes, we pretend that we are on the Food Network show, Chopped, and see who can come up with the most creative way to use the new ingredients. It's a blast. I'm adding this watermelon salad with sweet and spicy vinaigrette to my list for the next time we get a watermelon – what a fun and different way to use that juicy fruit!
"Growing up, our summertime meals consisted mostly of fresh veggies.
Sweet grilled corn on the cob; sliced red tomatoes with my mom's sweet creamy white dressing; zucchini sautéed with garlic, olive oil, and salt; steamed green beans with butter; bowls of leafy greens. It was bliss, all of it, and it's no wonder that to this day my sister and I both prefer veggies over meat or junk food. (Thank you, Mom!)
Most of the time fresh fruit was for dessert, and if we were really lucky, it was watermelon.
I remember my dad sprinkling a little salt on his watermelon wedges and as a kid I always thought it was the strangest thing ever. Now as an adult I think it's pure genius. It's amazing how just a tiny bit of salt contrasts the natural sweetness of watermelon so perfectly that it actually tastes sweeter.
Which brings me to my Watermelon Salad with Sweet and Spicy Vinaigrette. A while ago I saw Cooking Light's Watermelon Salad with Feta and Cucumber Pickles on Instagram, and it immediately caught my attention. As in, I ran out and bought a watermelon that same day because it was calling to me something fierce.
I put my own spin on that recipe, using fresh cucumber slices instead of taking the time to make pickles (but I definitely want to take the time to try the pickled version too!), goat cheese instead of feta, and a sweet and spicy vinaigrette that really accentuates the natural sweetness of ripe watermelon. It's a winning combo of flavors all around.
This salad is so refreshing, it's perfect for those hot summer days when you're hungry, but don't really feel like eating and nothing quite sounds good. And it would be the perfect side dish to bring to a BBQ, potluck, or pool party."