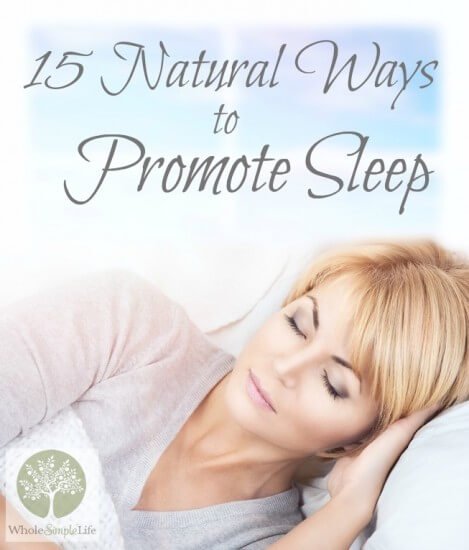 How have you been sleeping? Think you need a boost in sleep and quality of sleep? Since sleep is so vital to health, we think this list of 15 natural ways to promote sleep from Hannah is gold. Give them a shot!
"Have you ever gone through a phase where you had a lot of trouble sleeping? It is the worst. I have struggled with this off and on and it can really affect you for the worse. When you're tired everything seems hard. For me I get anxious, irritable, lethargic, and emotional…it's no good.
Inevitably we go through stressful periods of life or maybe your body sometimes gets into an annoying rhythm and wakes up randomly at 3:30 a.m. for weeks. Am I the only one who's experienced that? Sleep is such an important factor for good health and being a nice mom is so much harder when you're operating on only a few hours sleep.
I've compiled a list of 15 ways to improve your sleep naturally that will hopefully help anyone who's struggling with getting a good nights sleep.
15 Natural Ways To Promote Sleep
1. Develop A Routine: Set a consistent time to go to bed and wake up, even on weekends.
2. Exercise: Try and get moving at least 3-4 times a week. You don't want to work out within 4 hours of going to sleep or it may wake you up instead of make you tired!
3. Clean Up Your Diet: Reduce or eliminate soda, processed foods and sugar, especially before bed!
4. Drink Less and Smoke Less: Drinking and smoking has been proven to have a negative effect on sleep, reduce or eliminate them all together.
5. Put Away Electronics: 1 hour before bed turn off your electronics, TV, phone, computer and so on. They can stimulate your brain making it harder to wind down. Instead, pick up a book before bed."