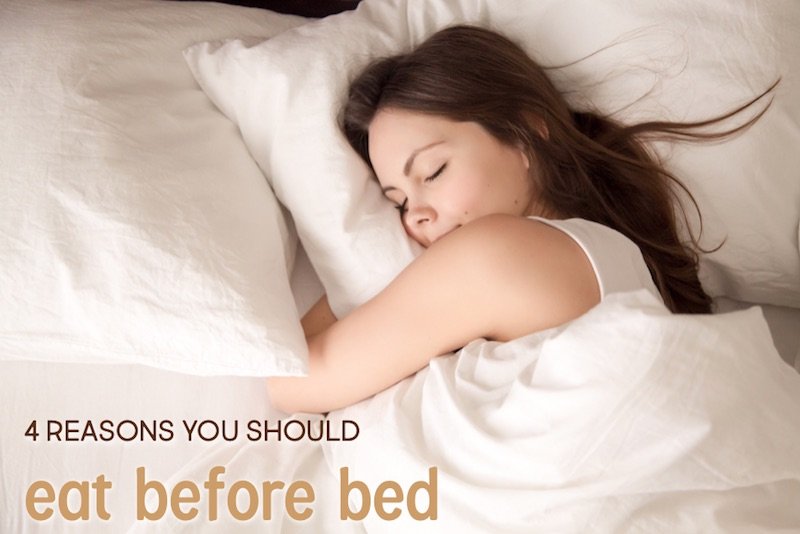 We've all heard the caution about eating late at night, right? Apparently, if we eat before bed, we'll gain five pounds that night. Now, this notion may be feasible if I went straight to bed after dinner, but alas, I have not yet discovered how to achieve my coveted 7 p.m. bedtime. Much like the myth of counting calories, this idea that eating before bed will cause us to gain weight is just that, a myth. Eating a healthy snack before bedtime can actually serve our body well throughout the night! "Healthy" is the key word here. Eating a huge bowl of sugary ice cream or a bag of processed potato chips before bed will not yield any of these desired benefits.
So go ahead, night owl, check out these reasons to eat before bed and take a bite of that fruit sorbet. 🙂
4 Reasons to Eat Before Bed
1. Get a Better Night's Sleep
Do you struggle with falling or staying asleep? The solution can be as simple as a healthy bedtime snack. Nourishing your body with real food before bed can help you sleep more deeply. Just as small children won't stay asleep unless they eat a hearty dinner, we won't sleep soundly without a satisfied belly. About 30 minutes before bed, eat a banana with nut butter, berries with heavy whipping cream, or carrots with homemade guacamole. The ideal ratio is half a cup of healthy carbs (like a banana or sweet potato) and a few tablespoons of a healthy fat (like avocado or coconut oil).
2. Fuel Your Body
Your body works hard, even while you're sleeping. Fueling your body with healthy fats and carbs before bed can actually jumpstart your metabolism to burn more calories while you rest. When we go hungry even before a large time of fasting (when we sleep for hours), our body is not provided with the nutrients it needs to function at its best.
3. Boost Your Health
Sleep is the foundation for health. In fact, it's the one thing everyone in the health field can agree upon. Sleep influences your metabolism, your immunity, your appetite, your cravings, your energy, and your weight (more on that below). When we don't sleep well and when we aren't properly fueled throughout our sleep cycles, these other areas suffer. Going to bed with a full stomach helps stabilize blood sugar, which enables better sleep and, therefore, promotes health. Enjoying a healthy snack before bed can help you avoid adrenal fatigue, cold and flu, and can lessen the symptoms of autoimmune disease.
4. Lose Weight
Perhaps the most counterintuitive reason to eat before bed is weight loss. A nourished body will burn excess fat and increase metabolism. Weight loss isn't about not eating, it's about eating the right things. When we finish our evening with a proper combination of carbs and fats, we encourage our metabolism to burn more calories (yep, even while we sleep!) and therefore promote weight loss. When our blood sugar is stable, glucagon, the fat burning hormone, is able to perform its job. If we don't eat before bed, our blood sugar will crash, throwing our hormones out of whack. When we fail to get adequate quantity and quality of sleep and when our hormones aren't functioning properly, our bodies cling to excess weight. In fact, these factors can actually make us gain weight.
What to Eat Before Bed
Remembering that the best ratio for a bedtime snack is 1/2 cup carbs with a few tablespoons of fat, here are some snack ideas for your enjoyment!
Apples and almond butter
Baked sweet potato with coconut oil and cinnamon
Frozen berries with homemade whipped cream
Carrots or almond crackers with guacamole
Homemade popcorn with butter
Homemade yogurt with berries
Are you a bedtime snacker?