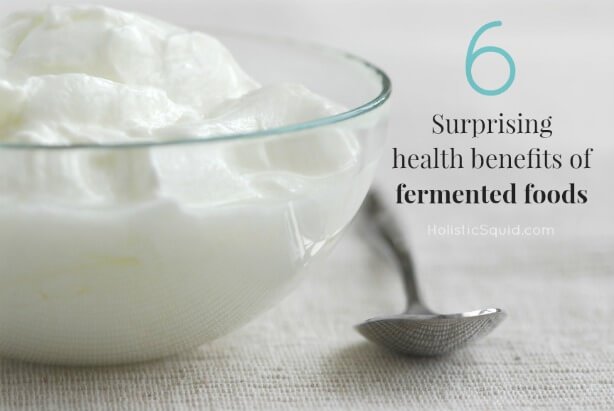 If you've been a part of our Wellness Media community for a while, you know well of our love for fermented foods. We devour caraway sauerkraut, homemade yogurt dip, and kombucha. And while we love the flavors of these foods, we make sure we eat these nutritious dishes for their amazing nutritional content. This post details some surprising health benefits of fermented foods (trust us – these benefits will be important to you, too!).
"I've written lots before on the health benefits of fermented foods, and for good reason. Apart from weird crunchy mamas like me who serve my kids sauerkraut with breakfast, make my own cultured ketchup, and have kombucha brewing on my countertop, fermented foods are a part of traditional diets that have been all but forgotten in our modern convenience-driven way of life.
I believe it's time for a resurgence.
The practice of deliberately letting foods sour or ferment, outside of refrigeration, (also called lacto-fermentation or culturing) not only makes foods diversely delicious, it also improves their digestibility and introduces essential beneficial microbes into our diets as well.
The more we re-connect with these foods, the more we realize that the health benefits of fermented foods extend far beyond a healthy tummy.
Learning from our ancestors
Nearly every traditional culture has enjoyed fermented foods as part of their regular diet. In Asian countries, fermented soybean paste and pickled fruits and veggies pair with most meals. In El Salvador they ferment the core of pineapple into vinegar. In Eastern Europe, sauerkraut and pickles pair with many dishes. Many cultures enjoy cheeses that have live cultures intact. Fish ferments into lox. Beef cures into pastrami. Even wine and unpasteurized beer are fermented.
Show me a traditional culture that thrived in human history, and I'm sure we can point to at least one – if not several – fermented food that they regularly consumed.
These days, traditional food prep practices have become less of a necessity, as we've opted for so called 'easier' techniques that provide long shelf stability. We use vinegar to pickle cucumbers and pasteurized everything to make it more shelf-stable.
Growing up in the 80's, the only fermented food I consumed on a regular basis was non-fat yogurt. It was something, but probably not enough to prevent teenage acne and mood swings, and a host of low level digestive imbalances.
These days, fermented foods are starting to make a comeback. It's not unusual to find health food store shelves stocked with kombucha, kimchi, miso, and traditionally prepared sauerkraut. On a good day, I can even buy unpasteurized soy sauce or coconut water kefir.
Aside from simply enhancing their nutritional profile and improving digestive health, you may be surprised to learn of some less well-known health benefits of fermented foods."