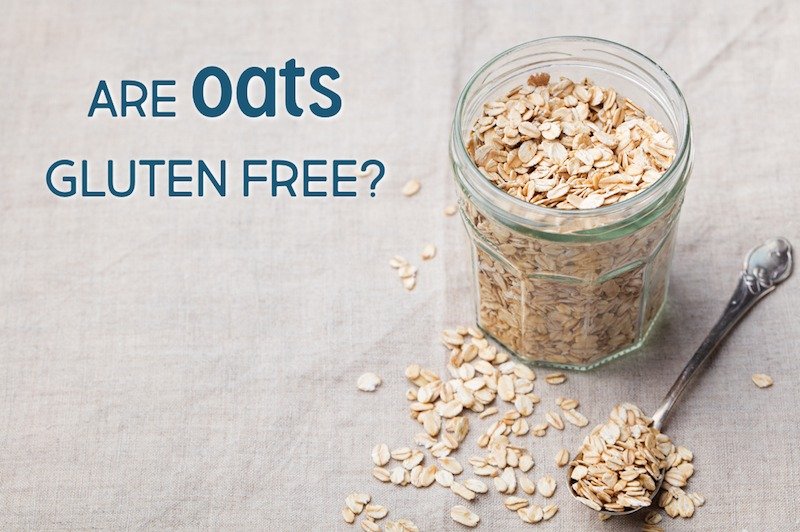 Many people are confused about what gluten is and what it is not. As the nutrition tide starts to turn, gluten free diets are gaining more attention and many people are ditching the grains in favor of more vegetables and healthy fats. We often hear that one of the hardest meals to adjust to a real food lifestyle is breakfast. While we personally love our gluten free pancakes and biscuits, some find those difficult to replace. Another breakfast favorite is oats; but are oats gluten free?
Are Oats Gluten Free?
Oatmeal is a kid-friendly breakfast that is quick and easy to make and fun to tailor to unique tastes and preferences, so it's popularity is not surprising. Oats can also be used to make a delicious homemade granola that adds crunch and protein to homemade yogurt or can be paired with milk to make a cereal alternative. However, there remains some confusion about what exactly oats are, how they're made, and whether or not they are safe for those with gluten allergies or sensitivities to consume.
So are oats gluten free?
Technically, yes.
Oats are not a barley, rye, or wheat grain and do not contain the protein gluten. Instead oats contain the protein avenins.
Therefore, on the whole, oats are safe for someone with a gluten allergy or sensitivity to consume. If you avoid gluten, oatmeal can be a great food to add into your diet because of its grain-like consistency.
The trouble comes when one considers where the oats are grown and manufactured. While oats themselves are gluten free, they are often grown in fields that crop cycle with wheat, barley, and rye.
Additionally, oats are often manufactured in factories where products containing gluten are also manufactured. In these factories, there is no guarantee against cross-contamination.
How to Tell if Oats are Gluten Free
If you're concerned about this possible contamination, the best way you can assure your oats are gluten free is to look for the third-party seal "certified gluten free." Then, you can be confident that the entire growing and manufacturing process have been observed and taken into account before labeling those specific oats as gluten free.
Benefits of Oats
Now that we know the answer to "are oats gluten free?" let's look at the benefits of oats. They are valuable for more than just their comforting texture!
1. Provide Fiber
As we mentioned above, oats are a fantastic alternative to cereal or other morning grains. Oats resemble these less healthy breakfast foods in that they are filling and satisfying, but differ form them in that they won't leave you feeling sick later. Oats are rich in fiber, about 5 grams in 1/2 cup, and can therefore aid in weight loss. The fiber in the oat bran causes the oats to expand during digestion, which will help you feel fuller without consuming as much food (and calories). Oats make a great snack, then, for those avoiding grains and large amounts of carbs or for those trying to lose weight, as they are comforting and filling without sending the blood sugar through the roof (more on that below).
2. Help Lower Cholesterol
Oats contain mostly soluble fiber, and a specific kind of soluble fiber known as beta-glucans. Beta-glucans, when consumed several times each week, have been shown to help lower LDL (the "bad" cholesterol) levels and therefore heart disease.
3. Boost Immunity
These same beta glucans are responsible for reducing inflammation in the body. Since inflammation is at the root of so many temporary and chronic illnesses, consuming oats on a regular basis can actually boost your immune system and protect against illness. Additionally, the beta glucans in oats fight bacteria and toxins, making oats a good food to eat when you are under the weather.
4. Contain Significant Amounts of Trace Minerals
Trace minerals are instrumental in many bodily functions and processes. Oats are particularly rich in manganese and phosphorus. Manganese supports proper hormone balance, adequate energy levels, and appropriate metabolism. Manganese is also responsible for helping creating enzymes that build and strengthen bones.
Phosphorous, too, plays a role in keeping bones healthy, and it's vital for oral health as it strengthens and protects gums and teeth. Phosphorous also affects digestion and the function of organs like the kidneys and heart.
Additionally, oats are rich in minerals like selenium, copper, B vitamins, magnesium, and iron. These minerals influence our energy, focus, blood and joint health, and muscle repair and growth.
5. Score Low on the Glycemic Index
Those who struggle to maintain healthy blood sugar levels are familiar with the glycemic index. The carbohydrates in oats release slowly, allowing you body more time to regulate and balance the sugar in the blood. Oats, particularly steel cut or rolled oats, score incredibly low on the glycemic index and also improve energy and insulin levels. Because of this, oats are a great option for diabetics or pre-diabetics.
Different Types of Oats
Now that we know the answer to "are oats gluten free?" and that they can actually serve positive nutritional purposes, what are the different types of oats, and is one better than the others?
What do you think – are oats worth incorporating into your diet?