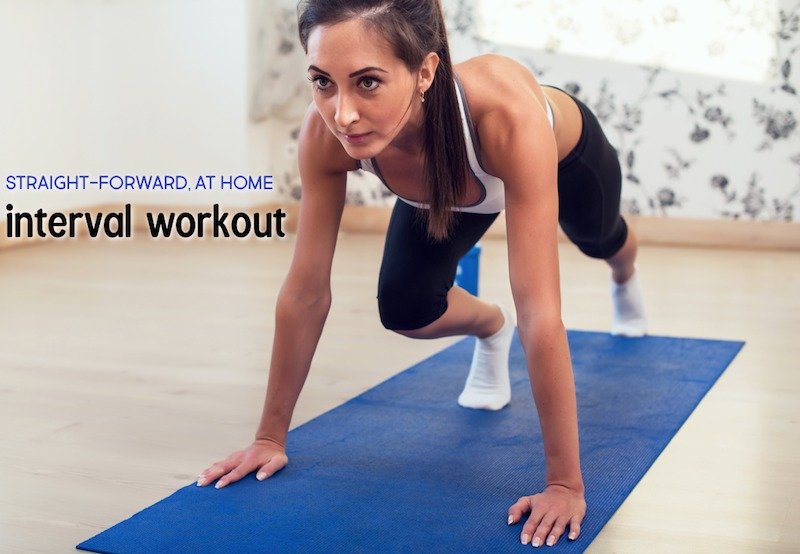 For many of us, our lifestyles, schedules, and budgets don't allow us to spend hours at an expensive gym to maintain our exercise needs. It's just the reality. And while it can be tempting to just throw up our hands and say, "I can't exercise, I just don't have the time!", most of us realize that we function much better when fitness is a part of our daily routine. It makes us better people, so it's worth it to find ways to input fitness into your daily life. That's why we love short and effective exercises like this kettlebell workout or these simple moves to reduce the effects of sitting. This at home interval workout is another fast and intense routine that you can complete quickly when you get home from work or once the kids are in bed 🙂
Why Interval Workouts?
Interval workouts promote cardiovascular health, muscle toning, and body function. In fact, studies have shown that interval training has greater results (externally and internally) than longer cardio exercise sessions. This is great news for those with busy schedules.
While there are countless forms of interval training, they all rest on the foundation of a high intensity workout with a low intensity recovery time.
But what does this mean?
In most interval workouts, you'll do the workout harder than what's normally comfortable. You'll then take a short break to recover before beginning the next exercise. Depending on your desired intense, you can decrease the efforts of your workout as well as your recovery time, or vice versa. The great thing about an at home interval workout is that you can truly customize it according to your preference or circumstances.
A good place to start is a balanced work-rest ratio. For example, you may do 5 rounds of intense exercise for 30 seconds, then rest for that same amount of time 30 seconds.
The At Home Interval Workout
This specific at home interval workout, however, is structured in a ladder formation, decreasing the balanced work-rest ratio, making for a more intense workout. However, you won't go as hard as you possibly can during the workout. The aim is to keep the same intensity throughout the entire workout.
What to Do
This workout is very customizable to the kind of cardio you enjoy. So you just need to choose what you'd like to do. This can be running, stairs, burpees, cycling, jumping rope, rowing, etc. Do this at a reasonably hard pace for the allocated time, then take an active rest. Be sure to walk or move your body during the resting periods.
The Warm Up
Do what ever exercise you chose at an easy pace for about 5 minutes. Then, stretch.
The Workout
Ready? Let's go!
4 minutes on | 3 minutes off
3 minutes on | 2 minutes off
2 minutes on | 1 minute off
3 minutes on | 2 minutes off
4 minutes on | 3 minutes off
The Cool Down
Walk for 3 minutes and stretch again.
Have you ever done interval workouts? Would you give it a try?