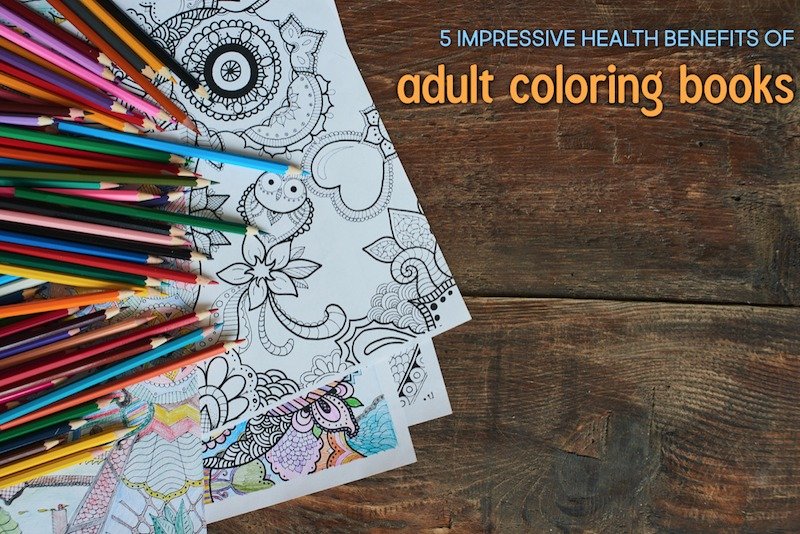 Coloring is one of the first "big kid" activities we learn as a child, and for many of us, it served as a creative outlet. We squealed with excitement when we were gifted a new coloring book and inhaled the scent of a fresh box of crayons at the beginning of the school year. Coloring was good for us then, and as adults, it's still good for us. Just like creativity, relaxation, and fun are promoted through activities like finger painting and playing with homemade play dough, the benefits of adult coloring books are impressive. Pick up those pencils!
5 Benefits of Adult Coloring Books
Coloring is a classic pastime we shouldn't abandon in our youth. Here are five reasons you should still be reaping the benefits of adult coloring books!
1. Stress Relief
Coloring has been shown to promote stress relief. Since it requires such attention to detail, it allows us to "zone out" and escape from the worries and details that normally consume our thoughts. Others find that coloring lets their mind wander and leads them into relaxation. When we are relaxed, our blood pressure lowers, our digestive system works more smoothly, our headaches subside, and our anxieties lessen.
But the stress-relieving benefits of coloring reach beyond minor stresses and worries. From Dr. Nikki Martinez:
These activities can help tremendously with individuals with PTSD, anxiety, and stress issues, as they calm down our amygdala. This is the part of the brain that controls our fight or flight response, and keeps individuals in a heightened state of worry, panic, and hyper-vigilance, when it is active. Coloring and focusing on this harmless and calming activity can actually turn that response down, and let your brain have some much needed rest and relaxation. This can be an exceptionally productive and welcome outlet for these individuals.
2. Improves Coordination
When we were children, we often completed tasks that were created to help us develop fine motor skills. We worked on our hand-eye coordination. As adults, we engage less and less in such activities and we can even lose some of our fine motor skills. Coloring is a fantastic way to continually develop our motor skills and hand-eye coordination.
3. Creative Outlet
Do you ever feel so busy and distracted by the responsibilities of your life that you forget what you even enjoy doing? Each of us has massive creative potential, but the duties of life can often deter us from pursuing hobbies and other ways of exercising our individual creativity. Coloring fosters our imagination and opens our minds up in new ways to new ideas. Because of this, many CEOs or creative directors color during their work day as a problem-solving technique.
4. Fosters Relationships
One of the most external benefits of adult coloring books, this activity can help you bond with other people. Many big cities offer several adult coloring book classes that you can attend with your friends or to find new community. This is an inexpensive activity that can serve as a girls' night out or team-building exercise. Since coloring doesn't take much focus but also keeps the hands busy, coloring is a fantastic way to check in with your kids. If you have a teenager who doesn't like to open up to you often, try sitting down and coloring with them. Often, they will discuss things over an activity like coloring than if you were to merely sit them down and look them in the eye.
5. Boosts Confidence
Finally, adult coloring books can boost confidence. Oxytocin (happy hormone) is released when we complete a task. So when we complete a coloring book page, we will feel a sense of accomplishment and even worth. It's always nice to finish something, no matter how small.
Where to Find Adult Coloring Books?
There are literally thousands of adult coloring books available online and in local bookstores and even grocery stores. I like these colored pencils and the following are some of my favorite coloring books:
Stress Relieving Animal Designs – This is on Amazon's best-seller list and has hundreds of positive ratings. Especially great for animal lovers!
Adult Coloring Books Designs – Soothing patterns of flowers, gardens, animals, and more grace the pages of this beautifully designed book.
Inspirations from the Heart – These designs are paired with inspirational quotes to encourage you. They can even serve as decoration once you've completed them!
Have you tried coloring as an adult? What is your favorite kind of adult coloring book?