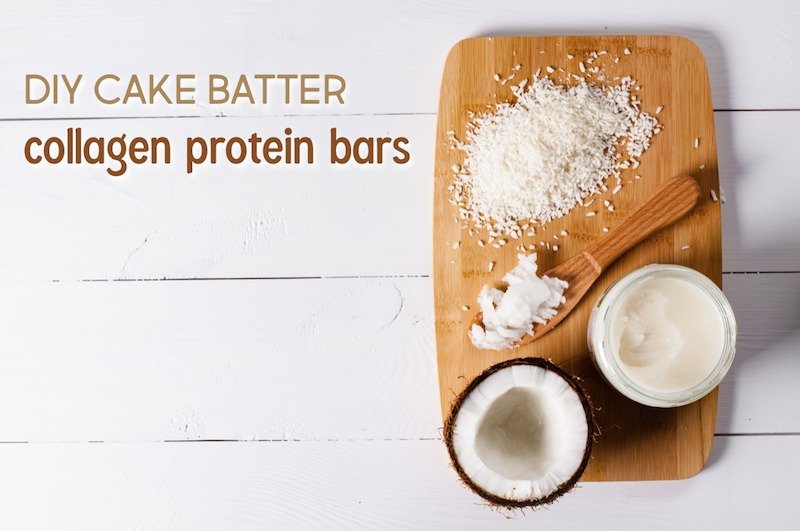 18 years of competitive sports plus my flat feet have added up to some negative results on my knees. My joints have always been sensitive, aching more right before a thunderstorm, and sometimes keeping me up from the pain. It was only once I discovered the benefits of gelatin like that found in bone broth, along with collagen and a gluten free diet, that my joints began to function properly again. Collagen plays a major role not only in our joint health, but our skin and bone health, too. And since we already know that protein is super important for our health, here's an excellent recipe for yummy cake batter DIY collagen protein bars!
Benefits of Collagen Protein Powder
While I typically steer away from most protein powders (as they're often processed and filled with artificial sweeteners), I can't get enough collagen protein powder. I use this collagen protein powder and have seen wonderful results from consuming it regularly. Some of the benefits of collagen protein powder are:
Joint health – Like I mentioned above, collagen is hugely beneficial for joint and even bone health. Bone and joints are made up of 90% collagen, and when we're deficient, we really feel the negative effects. Consider collagen your joint lubricant, and when you have enough, everything is literally in better working order.
Hair, skin and nail health – Collagen supports nail and hair growth as well as smooth skin. When I begin consuming more collagen, the first difference I notice is that my nails grow stronger and longer more quickly, and my hair grows faster. This has been particular beneficial during the postpartum season when the dreaded "postpartum hair loss" strikes.
Balances hormones – Collagen helps the body balance hormones by mellowing out the high concentration of tryptophan found in the muscle meats we often consume.
Cake Batter DIY Collagen Protein Bars Recipe
Ready to add some protein and healthy fats to your diet? This recipe makes about 12 bars.
Ingredients
Instructions
Coconut butter is a lot like coconut oil in that its consistency depends on the temperature of the room. For the start of this recipe, you want the coconut butter to be smooth. If the coconut butter is solid, run the jar under hot water until it softens. Or, place in a pan of hot water until it softens.
Line a baking sheet with parchment paper.
In a bowl, combine combine the coconut butter and the collagen.
Add the maple syrup and stir until combined. The mixture should now be a bit crumbly.
Add the coconut oil, vanilla, and salt and stir to combine. The mixture should be pulled together now; but add more coconut oil as needed.
Move the mixture to the baking sheet and use your hands to form it into a thin square. Using a butter knife, score the mixture to create small bars.
Chill for about 30 minutes in the fridge, then cut along the score lines into bars. Enjoy!
Note
When you score the bars, feel free to make them as large or as small as you'd like. Just know that the yield will change based upon size.
These DIY collagen protein bars are best stored in an air tight container in the fridge. You may want to let them soften a bit after removing from the fridge for ideal consistency.
Other Collagen-Rich Recipes
Looking for other recipes that are loaded with beneficial collagen? Here are some of our favorites:
Have you ever used collagen protein in recipes? What's your favorite? Let us know below!