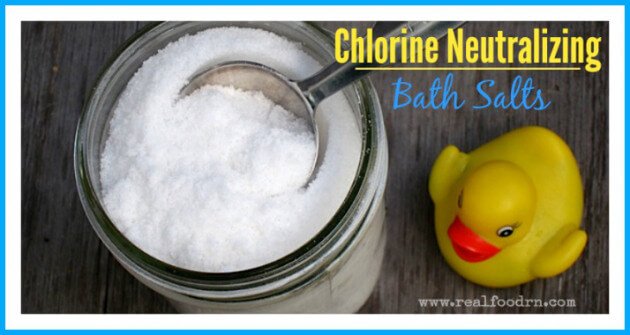 Summertime, especially for kids, means a lot of time spent outdoors in the sun and by the water. Both private and community pools overflow during the hot months with families looking for a break from the heat and an opportunity for fun activities in the pool. When I was younger, I lived at the pool from the months of May-August. My friends and I would never tire of games like Marco Polo, daring tricks on the diving board, and a slew of races. Within a few days of these long stretches of time spent in the chlorinated water, my hair would start to dry out and its texture would change dramatically. My skin, also, would become dry and flaky. Essentially, you could tell my body was being exposed to harsh chemicals that were not doing anything positive for my body.
Chlorine has a wild way of having these intense effects on our bodies, and I don't believe we've even discovered all its down-sides yet. Because chlorine can take such a toll on our health, it is important to avoid it as much as possible. However, we realize that that is not always realistic. In fact, most of us are exposed to chlorine even in our drinking water! So, for the times when chlorine exposure is unavoidable, try these chlorine neutralizing bath salts. The sea salt and vitamin C work together to neutralize the chlorine and minimize its influence.
"If you live in the city, you probably have chlorine in your water! This is added to the municipal water supply to kill of bacterial in the water supply. Unfortunately, it can also do some damage to our bodies too! Especially if you are a lover of baths (like me) and like to soak in the tub for an hour or more. We looked into getting a whole house filtration system for our water but it was to expensive (maybe some day). We used one of these bath balls for a while. But again, I wanted something even cheaper to use. Something I can make myself….chlorine neutralizing bath salts! This costs pennies to make and is so easy to throw together. It even makes a great gift, say for new Moms who are afraid of exposing their babies to anything and everything. I totally was not one of those moms! Okay, I totally was — and would have loved getting this as a gift!
First, a little bit about why soaking in chlorine is bad for you: 
Chlorine belongs to the same chemical group as fluoride and belongs to a group of chemicals called pathogens — NOT good!
New research suggests that children who swim frequently in chlorinated pools may have increased risks of developing allergies or asthma
It has been linked with other health problems including bladder and rectal cancer and, possibly, an increased risk for coronary heart disease
"The latest on this comes from a study in Belgium, which found that teens who spent more than 1,000 hours swimming in chlorinated pools had more than eight times the risk of developing asthma or allergies, compared to kids who usually swam in pools using a copper-silver disinfecting method." (source)"