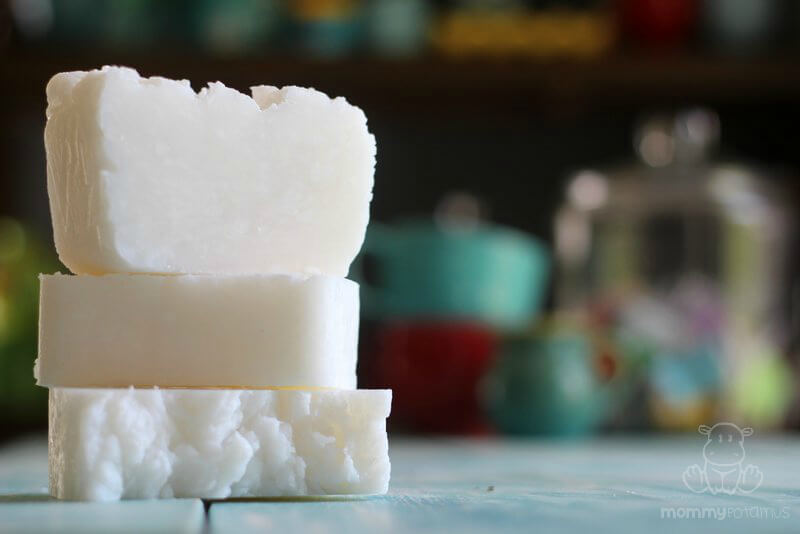 We have a running joke in our family that, in our houses, you can find kitchen products in the bathroom, and bathroom products in the kitchen. We do funny things like make face astringent with apple cider vinegar, makeup with cocoa powder, and dry shampoo spray with arrowroot powder. But we love doing things this way because it protects and promotes our health, and frankly, it just works better. Combine our love for homemade personal care products with the fact that we use coconut oil for everything, and this recipe makes our hearts sing. This coconut oil shampoo bar recipe promises to leave your fair feeling soft and nourished without being greasy. Plus, the convenience of the bar makes quick showers a fantastic possibility (I'm looking at you, moms of the world 😉 ).
"Want to play "I never"?
Good, I'll start. Since becoming a mom, I have never ever forgotten to eat dinner, then just finished my kids plates as I washed them.
I have never ever accidentally rubbed soft scrub in my armpits instead of my homemade deodorant.
And I most certainly have never ever run out of shampoo and washed my hair with regular bar soap.
Okay, I have actually done all those things. Now obviously I don't recommend the first two, but hear me out on that last one.
It all started on a day when I needed to shower and get dressed in 10 minutes (are there any other types of days for moms??) and I realized I was completely out of shampoo. Rather than hop out of the shower and mix up a batch of clay hair wash, I grabbed my coconut oil soap and rubbed on my head. ( I figured Tropical Traditions sells a coconut oil-based shampoo bar, so why not?)
There was SO. MUCH. LATHER. We're talking lather for days. And my hair was so soft afterwards I started to feel a little self conscious about how often I was stroking my own hair. Unfortunately it did leave my hair a little oily, but I loved overall effect so much I decided to play with the recipe and see if I could change that.
Turns out, reducing the amount of oil in the finished bar by about 8% did the trick. It gently cleaned and moisturized my hair without leaving it heavy or greasy. It only requires three ingredients, and today I'm sharing the recipe with you.
New To Shampoo Bars? Here's What You Need To Know
As mentioned my post on detoxing your hair, commercial shampoos are usually made with surfactants such as sodium lauryl sulfate – which is a known skin irritant that is often contaminated with the probable human carcinogen 1,4 dioxane – instead of soap. (source 1, source 2)
They also often contain silicone that coats the hair and prevents it from absorbing moisture. While silicone can make hair look smooth and shiny in the short-term, over time it causes it to dry out and become more brittle over time."