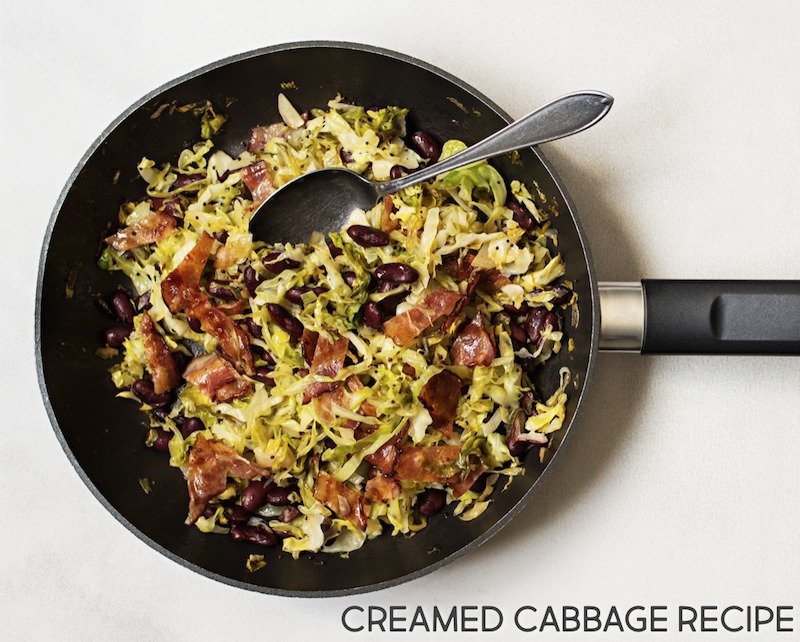 Looking for a good comfort food that is also actually good for you? Love cabbage noddles and cabbage rolls but looking for a new way to use this nutritional vegetable? Creamed cabbage is a traditional side dish that many of us grew up with. It's popular with crowds at a potluck or with a simple Sunday dinner. This healthier version of the favorite creamed cabbage recipe is warm, creamy, smokey, and flavorful. It is also very simple to make!
The Benefits of Cabbage
Cabbage is a popular vegetable in most diets because it is very low in calories. But the impressiveness of its nutritional profile reaches far beyond that. Cabbage is rich in:
Vitamin B1 and B6
Vitamin C
Vitamin K
Manganese
Fiber
Potassium
Folate
Copper
Cabbage provides a healthy dose of nutrients and seems to have no downside. Additionally, cabbage may help prevent cancer. From WebMD:
Cabbage contains chemicals that are thought to help prevent cancer. Cabbage might change the way estrogen is used in the body, which might reduce the risk of breast cancer.
A Healthy Version of Creamed Cabbage
While cabbage is evidently a nutritional powerhouse, I highly doubt our great-grandmothers considered that much when making traditional creamed cabbage. It just tastes good, and that was good enough.
But when I make this for my family, I want it to taste delicious but also nourish our bodies. So, in an effort to avoid using the common ingredients like flour, I set out to find a healthy version of my family's favorite. I'm happy to be sharing it with you!
Creamed Cabbage Recipe
Even the members of your family who don't like cabbage will go crazy for this. It's creamy and buttery and, oh, there's BACON.
This recipe makes about 6 side servings.
Ingredients
4 slices bacon, chopped
2 1/2 Tbsp butter
1 large onion, sliced on the half
1/2 lbs green cabbage, sliced into thin strips
1 tsp salt
1 tsp freshly ground black pepper
1/4 cup water
1 cup full fat coconut milk
1/2 cup organic blacks beans, drained and rinsed (optional, but adds more protein if using this as a main course)
Instructions
Heat a large skillet over medium heat and add the bacon. Cook until crispy, stirring occasionally. Transfer bacon to a paper towel to drain excess grease.
Add butter to skillet and let melt. Add the onion, cabbage, salt, and pepper and water. Cover. Cook until the cabbage is tender, adding more water if mixture starts to dry out.
Once cabbage is tender, add the coconut milk and let simmer for about 3 minutes.
Stir in the black beans and allow to heat through. About 2 minutes.
Serve and enjoy!
Other Incredible Healthy Side Dishes
If you need ideas for other healthy spins on favorite side dishes, these are some of our favorites:
What's your favorite healthy side dish?