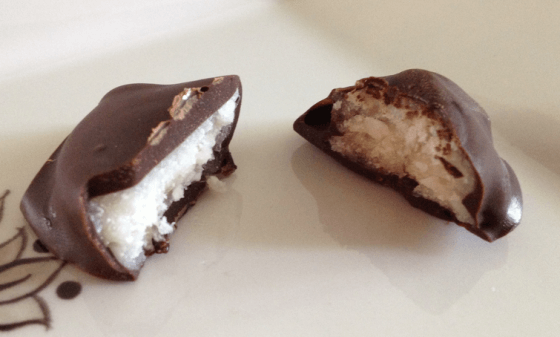 Junior Mints are a staple for America's movie theaters, and for good reason. A delicious chocolate shell covering a creamy and minty filling make it difficult to not consume an entire box. But as you've probably guessed, Junior Mints are also filled with bizarre ingredients that are less than bad for you. This natural Junior Mints recipe is made with coconut oil and is dairy, egg, soy, and sugar free!
"So you may have read about my new obsession with coconut oil. As much as I have been loving it around the house, I hadn't really cooked with it yet. So last night Steve and I made these junior mints, and they were absolutely fantastic! I would definitely recommend it to anyone looking for allergen-friendly desserts or someone who is trying to stay away from excess sugar. And they're super easy to make!
Ingredients
1/2 c. coconut oil (you want it to be somewhat solid, so keep it at a temperature below 76 degrees)
1/4 c. honey
7 drops peppermint essential oil or 3/4 tsp. peppermint extract
Instructions
1. Whip coconut oil, honey, and peppermint together in a bowl with a fork (you can also use a mixer, but we are lazy)
2. Allow it to harden if it needs to in the fridge.
3. Make balls with the mixture and put them on parchment paper and put them back in the fridge to harden.
4. Melt chocolate either in microwave (stir every 30 seconds to avoid burning) or in double boiler or saucepan on low heat."