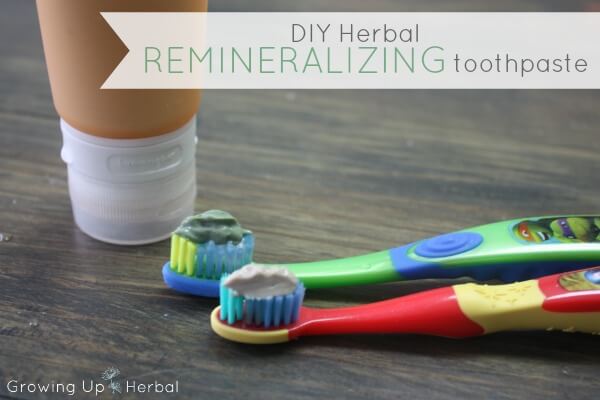 Because of our modern day food's lack of basic nutrients, our entire bodies suffer, even our teeth. In order to keep our oral health up to par, it is necessary for us to do a little extra. This DIY remineralizing toothpaste from Meagan is simple to assemble and will help ensure your total oral health!
"How many remineralizing toothpastes are out there on the web? Now how many of them remineralize using food… herbs to be exact. I searched 10 pages of Google to find "herbal remineralizing toothpaste" and a few other targeted keywords and didn't come up with a single recipe that used an herb as the remineralizing source.
Well hopefully today that will change because I've come up with an all-natural toothpaste that will help to remineralize your child's teeth using herbs. One particular herb to be exact.
Spirulina is green, algae-like plant called a cyanobacteria, and it's one of the highest protein and nutrient sources of food available. It's a superfood, and let me give you a little bit of advice. Use it… often!
Besides being at 65% complete protein (beef is only 22%), it contains all the essential amino acids (plus some non-essentials as well) and contains a healthy amount of omega-3 as well as some omega-6 and omega-9, it's high in chlorophyll (blood purifier and immune booster), high in iron (58 time that of raw spinach and 28 times that of beef liver), and it's full of vitamins and minerals.
This one herb should replace those junkie protein powders and fake multivitamins a lot of people take.
Now… in addition to all of this great stuff about spirulina, it's also great for tooth remineralization.
Why do you need to be concerned with tooth remineralization?"