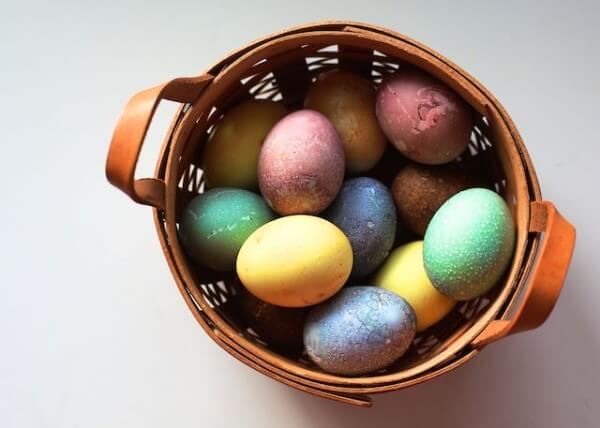 One of the fantastic things about having real food on hand (besides helping us feel wonderful) is that they can be used in a variety of ways. These foods can be used in home remedies and even tea towel dyes. If you're looking for a festive way to use your favorite real foods this spring, check out this DIY natural Easter egg dye! Dyeing Easter eggs is one of my favorite memories I have from my childhood. I remember standing on a stool in my grandmother's kitchen, carefully dipping the eggs into the various colored dyes, and dreaming up different patterns. My cousins and I had a blast! We were so proud of our colored eggs, and we would display them proudly at our family's Easter dinner. Later, the adults would peel them and enjoy a hard boiled egg 🙂
Now, I will be able to establish the same traditions with my children using natural egg dyes we can make from home. And how much more fun will it be to actually involve them in the dye-making process? Making this natural Easter egg dye is a fun activity for the whole family and avoids exposing little ones to the harsh chemicals found in commercial dyes!
"Discovering natural ways to dye the eggs has added an extra fun element to the whole spring tradition. Not only is the process easy and chemical free, but is a great science project that my older kids thoroughly enjoyed.
We used the dyes to test hypotheses with our experiment – my kids were sure the purple cabbage we chopped up and boiled in water and vinegar for 20 minutes would produce purple eggs, but when bluish-green eggs emerged from the dye they were surprised and excited to record their results.
Making the dye may sound intimidating but it is very simple. To start out you just need a sauce pan, a quart of water, and 2 tablespoons of vinegar. Then choose a color from the recipe below. Parents with very young children may just want to do one or two colors at a time. Remember for littles it's more about the process than the result."