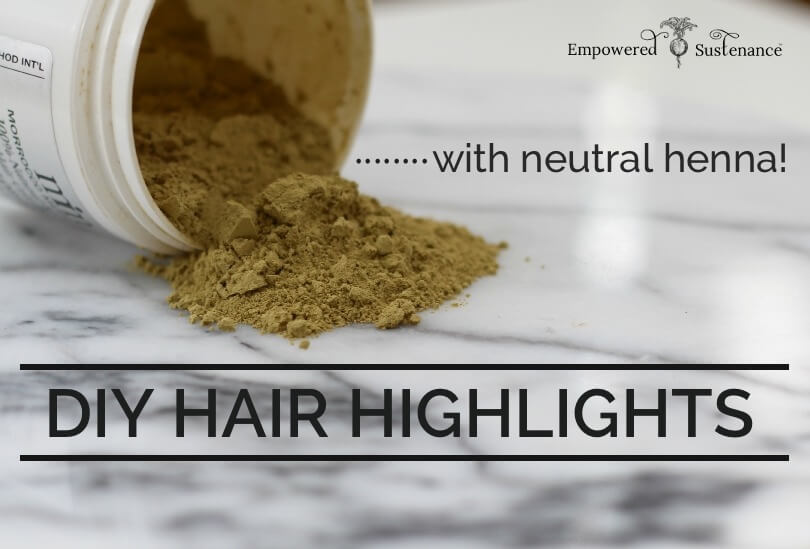 During my teenage years, I was the highlight queen. As I passed through grade school, the bright blonde hair I had in childhood faded away, and I wasn't ready to say goodbye. So I went through years of of hair treatments to maintain my blonde status. Some looks were good, and others were completely terrible (like the super-chunky-highlight phase I went through). But I enjoyed keeping some color texture in my hair. Now that we are living a more natural lifestyle, my outlook on hair products is changing rapidly. Chemicals and toxins found in store-bought shampoos, hair gels, and hair sprays are enough to make me cringe. I can only imagine how much more presents these harmful substances are in the salon highlight treatments I received as a teen.
Enter this DIY natural hair highlights treatment. This method uses neural henna, which deep conditions hair, adds volume and texture, and provides many other health benefits! If you are interested in finding a more natural way to achieve the hair color you desire, you must give this a try! It is easy to do at home and is much more affordable than salon treatments!
"Raw shampoo, boar brushes and detox… oh my!
Over the past nine months, I've discussed the various steps in my journey to natural hair care. Before that, I struggled with various natural brand of hair care as well as DIY hair care, but I never found an option that met my ingredient standards while delivering optimal results. As soon as I discovered the Morrocco Method, a unique line of 100% raw hair care, I fell in love and never looked back.
The aspects of healthy hair care that I've covered to date include:
5 steps for holistic hair care
How to detox your hair (getting through the transition period)
10 solutions for no-heat hair care and styling
6 benefits of boar bristle brushing
Today, I'm going to discuss another element that I use in my holistic hair routine: neutral henna.
What is neutral henna?
Morrocco Method offers a wide range of 100% pure plant hair colors, which you can find here. One of the unique hennas they offer is neutral henna, also called clear henna or colorless henna.
Morrocco Method uses the henna plant along with other botanicals to create the different shades of henna:
The henna in our product is Lawsonia inermis, which is naturally a red-orange dye. In order to achieve our variety of colors we use other plant powders. We have several different henna mixtures that are available, ranging from Light Blonde, which includes marigold and chamomile flowers, to Black, which includes indigo flower (Indigofera tinctoria). Our browns are mixtures of Lawsonia inermis and Indigofera tinctoria in varying ratios. Neutral Henna is pure Cassia obovata. Blonde Henna is actually Cassia obovata mixed with marigold and chamomile flowers. (Read more)
Neutral Henna for DIY Hair Highlights
Along with the other benefits for hair health, MM Neutral Henna works to DIY Hair Highlights – without any chemicals!
Neutral henna will not lighten your hair – henna just can't do that – but for me and many people, it gives the illusion of highlights. That's because henna coats the hair shaft, making the hair more reflective. By making hair shinier, it gives the illusion of highlights. MM henna brightens your existing hair color and brings out the natural dimension in your hair."