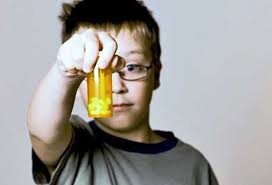 "The school year is really in full swing.
I know this by the subject matter of a large portion of my emails and phone calls.
Children are in full school mode after a long active summer. Many of them, particularly the boys, have trouble adjusting to the new schedule, new rules, and new class materials.
Forgetting things, daydreaming, making mistakes, fidgeting, and talking out of turn are among the "symptoms" that concerned parents ask me about. I get these two questions over and over.
Is something wrong with their child – could it be ADD/ADHD?
Does he need to be medicated?
My initial response is to think: all those things sound pretty normal for little boys coming off summer break. In fact, I believe I displayed many of those same behaviors as a boy.
The answers to the questions are: Yes and No.
Yes. There is something wrong with your child, the symptoms tell us that something is wrong, but not what is wrong.
First, I like to look at what their child is eating, how much sleep and exercise they are getting, and what is going on in their life. Sometimes, the easiest way to heal a child is to give them the right diet, proper sleep, enough exercise, and lots of love. However, in most cases, further investigation into digestion, detoxification, and immune function is likely needed to determine what is causing these symptoms to appear.
And No. He does not need to be medicated. Drugs will not heal the body, only disguise the symptoms.
Healing is possible when two things happen:
The body's vital energy is supported through Diet, Rest, Exercise, Stress Reduction, and Supplementation
Metabolic Chaos is lifted by removing toxins, allergies, and hidden stressors.
Drugging kids to calm their ADD/ADHD symptoms is a quick-fix, and a pretty crappy one. Sure, on the meds, kids are able to focus and can exhibit desired behaviors.
The problem is, nothing is really getting fixed. The underlying issues that caused the symptoms to surface in the first place are never even addressed. If they stop popping pills, the symptoms come right back.
Spending time educating parents about prevention of attention problems and hyperactivity has proven to be effective in my practice. I believe that one reason that staggering numbers of young children are taking harsh stimulant drugs is simply lack of education.
My heart goes out to these kids. Our children are our most valuable asset, the future of our planet depends on them. This is why I am so passionate about this topic.
If you have kids with ADD/ADHD or know someone that does, please educate yourself. Read and share this article, so that our kids can start getting healthy instead of just getting high."