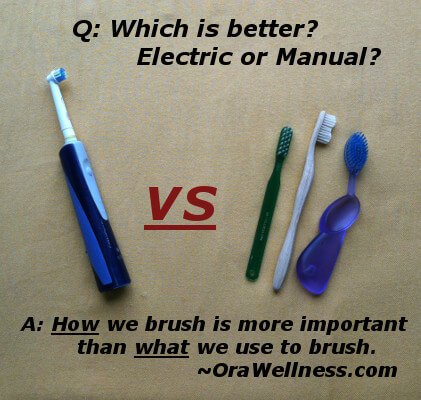 Do you prefer electric brushing or manual brushing when it comes to caring for your teeth? Many people have varying opinions on which is best and why. In this article from Will, however, we learn about how what you brush your teeth with takes second place to how you brush your teeth.
"We are honored that we were recently asked to contribute to an expert roundup on the subject of whether electric brushes or manual brushes are the better option for one's oral health. Like so much 'news' in these days which take the form of quick tidbits of information, we often find that such blog posts, while helpful, can often leave much information out of the story in order to appeal to the 'Can I read it in less than 5 minutes' internet mentality.
So, rather than just leave it with our 'less than 50 words' answer, we decided to give you our full discussion on the subject here!
First, you can see the expert roundup we participated in here.
Like many 'one size fits all' musings, this question 'which is better, electric or manual brushes?' leaves much out of the discussion. So let's blow this question out and give it the attention it deserves.
We see several questions within this that need to be addressed, including:
If a person is looking to clean their teeth to lower the plaque (biofilm) which is implicated with tooth decay, what is the best method to accomplish this? For this application, is electric brushing or manual brushing more helpful? If electric, which brands/style of brush perform best? If manual, which brands/style/brushing technique perform best? And why? Where is the research that shows this benefit? What do clinicians report when it comes to electric or manual brushing and their relative benefits of reducing plaque? Given the plaque these clinicians find, did they take into consideration the foundational influence of what foods the patients consume on a regular basis and the relative plaque the clinicians find in the mouths of these patients?"