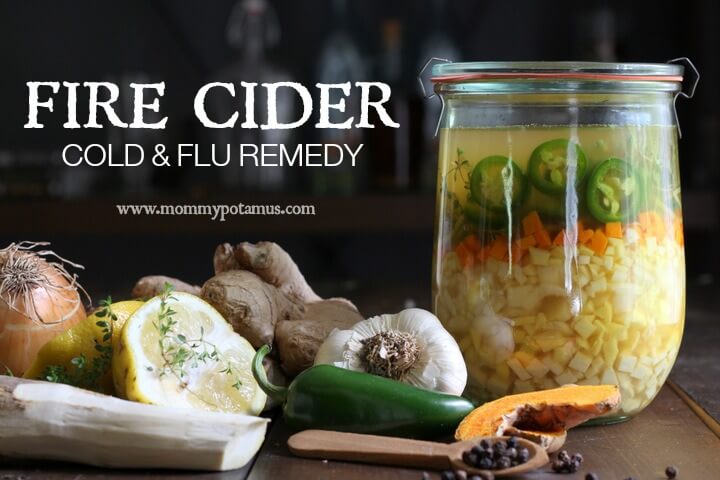 It is but the beginning of September, and people are already buzzing about Fall. You can't turn a corner in your town or on social media without seeing advertisements for pumpkin flavored treats, Halloween decorations, and boots and scarves. Another aspect of the cold weather that will be upon us soon are the dreaded cold and flu. Soon, along with the aforementioned Fall propaganda, we will see advertisements for the flu shot and medications for the common cold. Knowing well that these may not be the best option, we're turning to other, natural solutions for staying healthy amidst all the crud that is bound to float around.
This fire cider remedy for cold and flu is one such solution. Made with bold and flavorful (sometimes to a fault, depending on what you like) ingredients like ginger root, horseradish root, onion, garlic, jalepenos, lemon, and apple cider vinegar, this remedy will not only put hair on your chest, but also health in your system 😉
"It's no secret that I believe in fairy tales . . .
But they're mostly of the modern day sort. Occasionally, though, I come across a recipe or ingredient that seems like it was pulled directly from one of Grimm's stories. How else could one feel about keeping dragon's blood in the cupboard, and enchanted fire cider in the fridge?
Though not imparted with any actual mystical powers, fire cider truly is magical in its own right. This tonic is revered by herbalists for its ability to help prevent cold and flu symptoms and/or shorten their duration if they occur, and for good reason. It's an apple cider vinegar infusion that contains "powerful immune-boosting, anti-inflammatory, anti-bacterial, anti-viral, decongestant, and spicy circulatory movers" that make it "especially pleasant and easy to incorporate into your daily diet to help boost the immune system, stimulate digestion, and get you nice and warmed up on cold days." (source)
Because it takes about a month to mature, I recommend starting a batch now so you'll be ready for fall. I actually have two going – one for the family and one for myself, because I ♥ all things horse-radishy.
How To Take Fire Cider
Many people take 1-2 tablespoons throughout the fall/winter months as a preventative measure, or every three to four hours if symptoms are present.
Here are some more ways to use it:
– As a "wellness shot" – I actually love the taste, so I put about 1 oz. in a shot glass to drink straight up
– As a tea – Breathe in the steam as you sip to relieve congestion
– In juice – For little ones, it's best to serve a small amount mixed in freshly-pressed orange juice or lemonade
– As a marinade or salad dressing"