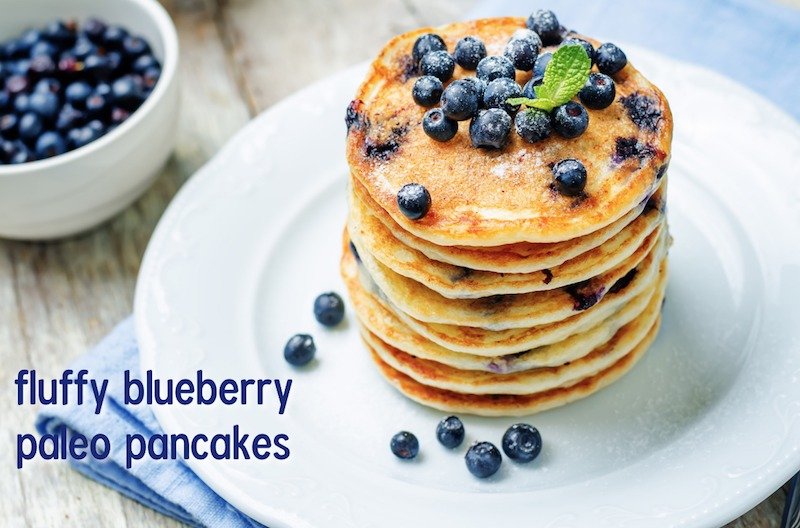 Breakfast is a big deal in our house. Even on the busiest days, we take time to eat breakfast together. Sometimes, that means I make an egg casserole ahead of time that we heat up each morning throughout the week; sometimes that means using a leftover burger on a salad with an egg. Whatever it takes, we make sure breakfast sets us up for a healthy day. But our very favorite breakfast to make is pancakes. They're usually on the menu on Sunday mornings, alongside homemade sausage or bacon. My husband's very favorite pancakes are these fluffy blueberry paleo pancakes made with coconut flour.
How Do You Make Gluten Free Pancakes?
When switching to a real food diet from a conventional diet of copious amounts of white flour and sugar, it may take some time to adjust to cooking and baking with gluten free flours. First, the texture and taste are a little different, so while there are tons of real food recipe versions of desserts or sweet foods, these may not taste exactly like what you're used to. Secondly, the ratio of wet to dry ingredients changes depending upon which gluten free flour you're using, so it's not a direct substitution. You'll get the hang of it after a few times, but it's helpful to start simple. Enter blueberry paleo pancakes.
Gluten free pancakes are a fantastic place to start on your gluten free cooking and baking journey (and are equally delightful for you pros out there). The combination of the ingredients creates perfectly fluffy, light, and delicious pancakes that pair wonderfully with all your favorite fillings or toppings.
Coconut Flour Pancakes
A big reason people are intimidated by making their own gluten free pancakes is because they've had poor experiences before with gluten free pancakes pre-made for them either at a restaurant or through a box mix. Those aren't the best options, nor are they an accurate representation of gluten free pancakes when made with the proper ingredients.
I use coconut flour as the base for these blueberry paleo pancakes because the taste compliments the other ingredients and the flour provides a great "fluff".
A note about using coconut flour: coconut flour does require the use of many eggs, so don't be alarmed when you see the quantity indicated.
Blueberry Paleo Pancakes Recipe
This recipe yields about 10 pancakes. Fresh blueberries, as opposed to frozen or dried blueberries, work best in this recipe.
Ingredients
7 large eggs
2.5 Tbsp honey
1 cup full-fat coconut milk (can use almond milk)
2 tsp vanilla extract
1 1/2 cup coconut flour
1/2 cup tapioca flour
1 tsp baking soda
1 tsp baking powder
1/2 tbsp cinnamon (or to taste – this is optional)
pinch of fine sea salt
coconut oil for greasing the skillet
1 cup fresh blueberries
Instructions
In a large bowl, scramble the eggs.
Add the honey, coconut milk, and vanilla and stir to combine.
In a separate bowl, stir coconut flour and tapioca flour until combined. Add baking soda, baking powder, cinnamon, and salt and mix.
A little at a time, add the dry ingredients to the wet ingredients and stir to combine well.
Place a large skillet over medium heat. When skillet is hot, grease well.
Pour batter into the skillet in 1/4 cup increments.
Once bubbles begin to appear at the top of the pancake batter, add blueberries to each pancake (as much or as little as you like!).
Flip the pancake and cook for another 3 minutes or so.
Repeat with the remainder of the batter.
Top pancakes with coconut oil, maple syrup, almond butter, or just eat them plain! Enjoy 🙂
Don't love blueberry paleo pancakes?
No sweat! You can use chocolate chips, bananas, nuts, other berries, or virtually any other pancake partner you like.
What's your favorite breakfast food?